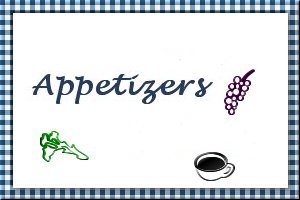 Green Chili Guacamole Dip
Submitted by: IrishCream
2 medium very ripe avocados (seeded, peeled and mashed)
1 (4 oz) can diced green chilies
2 large green onions, chopped
2 tablespoons Olive oil
1 teaspoon lime juice
1 clove garlic, finely chopped
1/4 teaspoon salt
Tortilla Chips
Combine avocados, chilies, green onions, Olive oil, lime juice, garlic, and salt in a medium bowl. Cover, refrigerate for at least 1 hour. Serve with tortilla chips.

Hot Chipped Beef Dip
Submitted by: IrishCream
8 oz cream cheese
1 tablespoon milk
3 (4 oz) chipped beef, diced
2 tablespoons instant minced onion
1/2 cup Sour cream
salt and pepper to taste (optional)
Blend milk, cheese and sour cream. Add diced chipped beef and onion to mixture. Seaspn with salt and pepper (optional). Bake, uncovered, at 350°F for 15 minutes. Serve hot with crackers.

Oysters Rockefeller
Submitted by: Barbiel
1 small onion, finely diced
10 whole shallots, minced
3 each celery ribs, finely diced
3/4 pound butter
1/2 cup parsley, chopped
3 pounds spinach, frozen, drained
1/2 tablespoon black pepper
1/2 teaspoon Cayenne pepper
1 teaspoon salt
1 teaspoon Worcestershire sauce
2 teaspoons Tobasco sauce
1/4 cup Pernod
1 cup Japanese white bread crumbs, as needed
Pamesan cheese, if desired
Sauté onions, shallots and celery in butter until onions are translucent. Add next group of ingredients and cook 10-15 minutes. Remove from heat. Add Pernod and 1/2 of Japanese crumbs , mix well and add more crumbs if needed. Cool and refrigerate. Place mixture on shucked Oyster, when almost cooked, top with some Parmesan cheese, and brown lightly. Makes 12 servings.
Serving Idea: Serve with Hollandaise sauce.

To submit your favorite recipes to be included in the Garden of Friendship Recipe Book, please email them to Barbiel
Background graphics made especially for the Recipes Committee of the Garden of Friendship by Valatine