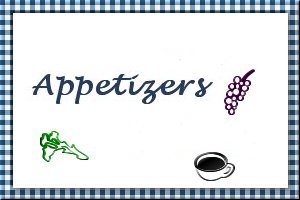 Sweet and Sour Chicken Wings
Submitted by: Sugie
24 chicken wings
1 cup sugar
1 cup water
1 cup Soy Sauce
1/4 cup oil
1/4 cup unsweetened pineapple juice
1 teaspoon garlic powder
1 teaspoon ginger
Preheat oven to 350°F. Mix all above ingredients. Place wings in a pan and pour mixture over wings. Let marinate overnight. Bake in pan at 350°F for 50-60 minutes. Serve warm.

Bacon Cheese Dip
Submitted by: Sugie
1 cup Monterey Jack cheese, shredded
1 cup cheddar cheese, shredded
2 cloves garlic, minced
1/4 cup green onions, chopped
3 ounces real bacon bits
1 cup sour cream
1 tomato, chopped

Combine cheeses, garlic, onions, bacon bits and sour cream in a baking dish and mix well. Bake at 350°F for 45 minutes. Top with chopped tomato and serve with crackers and/or tortilla chips.
The Skinny: Use low fat sour cream. You might be able to get away with low fat cheeses as long as you don't lose the "gooey" factor.

Avocado Dip with Chilies
Submitted by: Sugie
2 large ripe avocados, peeled and pitted
1 ripe tomato, diced
1 small sweet onion, diced
1 small 5-ounce can green chilies, drained, diced
1 tablespoon fresh lime juice
2 tablespoons fresh cilantro, chopped
1 teaspoon salt

Mash avocados in a bowl. Add remaining ingredients and mix well. Serve with tortilla chips.
The Skinny: Use fat free tortilla chips.

To submit your favorite recipes to be included in the Garden of Friendship Recipe Book, please email them to Barbiel
Background graphics made especially for the Recipes Committee of the Garden of Friendship by Valatine