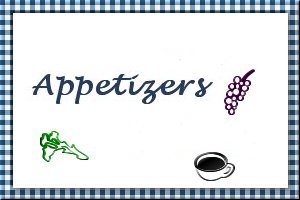 Layered Dip
Submitted by: Sugie
2 15-ounce cans refried beans
1 16-ounce container sour cream
1 package dry taco-seasoning mix
2 avocados, mashed
1 head lettuce, shredded
2 tomatoes, chopped
1 cup black olives, sliced
1 cup cheddar cheese, shredded
1 cup Monterey Jack cheese, shredded

Place ingredients in the order they are listed on a large platter. Serve with tortilla chips.
The Skinny: Use fat free refried bean, light sour cream, low fat cheeses and serve with fat free chips.

Hummus bi Tahini (Garbanzo Bean Dip)
Submitted by: Barbiel
1 cup dried chickpeas (garbanzos), soaked overnight
or 1 can of cooked chickpeas
2 cloves garlic, crushed
3 tablespoons tahini
1/2 cup fresh lemon juice
2 tablespoons chopped parsley
1 tablespoon olive oil
salt and pepper
Note: If using dried chickpeas, boil them in water until done, at least one hour. Mash while warm in a food processor, leaving out a few whole ones for garnishing. Add tahini, lemon juice, salt and 2 tablespoons of cold water. Blend the mixture until it is a creamy consistency. Correct the seasoning and pour the thick dip into a deep bowl. Season with salt and pepper. Garnish with whole chickpeas and chopped parsley. Sprinkle with olive oil and serve with pita bread.
Hummus, a staple of most Mediterranean restaurants and becoming increasingly popular on American tables, has its roots in Lebanon. It has many variations, depending on the country and the cook's taste. If you prefer, add cumin, cayenne, freshly chopped cilantro or dill. Tahini is a sesame seed paste that is similar to peanut butter. It is sold by the jar and can be found at health food stores and the nutrition section of many grocery stores.

Spicy Lasagna
Submitted by: Lady Lynda
2 pounds lean ground beef
1 sweet onion, chopped
2 garlic cloves, minced
1 teaspoon cumin
1/2 teaspoon red pepper
1/2 teaspoon cayenne pepper
2 large fresh tomatoes, chopped or
(1 14-ounce can diced tomatoes, drained)
12 corn tortillas
1 16-ounce container cottage or ricotta cheese
1 cup Monterey Jack cheese, shredded
2 cups lettuce shredded
2 fresh tomatoes, diced
1 cup black olives, sliced
1 cup Cheddar cheese, shredded

Brown ground beef in a large skillet with onion and garlic. Add cumin, red pepper, cayenne pepper and diced tomatoes and cook over low-medium heat forseveral minutes. Remove from heat. Place 6 of thecorn tortillas and the bottom of a lightly greased1 3 x 9-inch baking dish and spread meat mixture evenly over tortillas. Combine ricotta and Monterey Jack cheeses and mix well. Spread over ground beef and bake at 350°F for 30 minutes. Remove from oven and top with lettuce, tomatoes, black olivesand cheddar cheese. Slice and serve.

To submit your favorite recipes to be included in the Garden of Friendship Recipe Book, please email them to Barbiel
Background graphics made especially for the Recipes Committee of the Garden of Friendship by Valatine