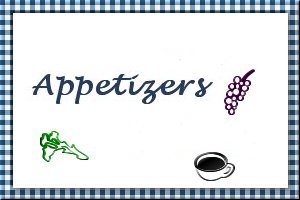 Cheese Fiesta Spread
Submitted by: Barbiel

1

package (8 ounces) cream cheese


(

or fat-free cream cheese

)
1/4 cup salsa
1/4 cup apricot preserves or orange marmalade


1 tablespoon chopped fresh cilantro

1

tablespoon finely shredded Cheddar

cheese
(

or

any your preference)




1 tablespoon chopped avocado


1 tablespoon chopped ripe olives
assorted crackers, if desired

Place block of cream cheese on serving plate with shallow rim.

Mix salsa and preserves; spread over cream cheese. Sprinkle with remaining ingredients except crackers.

Serve with crackers.

Makes 8 servings.

6 Layer Mexican Dip
Submitted by: LisaW
(2) 9 oz. cans bean dip
2 cups guacamole
1 cup Sour cream
1/2 cup mayonnaise
1.25 oz. packet taco seasoning
2 green onions
4.25 oz. can chopped black olives, drained
2 medium tomatoes, diced
1 cup salsa
3/4 cup shredded cheddar cheese
Spread each layer, one on top of the next, on large serving plate or baking sheet. Serves 4.
1st layer: bean dip
2nd layer: guacamole
3rd layer: (combined) sour cream, mayonnaise, taco seasoning
4th layer: (combined) green onions, black olives, tomatoes
5th layer: salsa
6th layer: cheddar cheese

Artichoke and Crab Meat Wedges
Submitted by: AngelBreath
16 oz. can whole artichoke hearts, drained and minced
16 oz. can crab meat, drained
1 cup mayonnaise
1/3 cup chopped onion
3/4 cup grated Parmesan cheese
13 oz. package English muffins
In a medium size-mixing bowl, combine artichoke hearts, crabmeat, mayonnaise, onions, and cheese. Mix thoroughly. Split each English muffin in half and spread the mixture on the cut side of the split muffins. Cut each of the sliced muffins into quarters. Arrange the muffin-bites on a baking sheet. Bake for 12 minutes at 375°F or until golden brown. Serve hot. Makes 8 servings.

To submit your favorite recipes to be included in the Garden of Friendship Recipe Book, please email them to Barbiel
Background graphics made especially for the Recipes Committee of the Garden of Friendship by Valatine