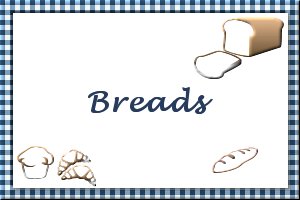 Buttermilk Biscuits
Submitted by: Mystic
1 1/2 teaspoons baking powder
2 teaspoons sugar
1/4 cup vegetable oil
3/4 to 1 cup buttermilk
(melted butter or margarine optional - brushed on after cooking)
Combine 2 cups of self rising flour, baking powder, and sugar in a mixing bowl; stir together, raking flour up sides of bowl to form a hole. Pour buttermilk and oil into hole and gently stir flour into liquids. Mix until flour is completely blended with liquids. Dough should be moist but not sticky. Turn out dough onto floured surface and knead several times. Roll out dough to 1/2 inch thickness and cut with biscuit cutter. Knead remaining dough 2 or 3 times and repeat procedure until all dough is used. Bake biscuits on lightly greased baking sheet at 450°F for 12 to 15 minutes or until lightly brown. Brush with melted butter or margarine, if desired. Yeld: 10 to 12 biscuits.
Note: The dough can be refrigerated overnight in an airtight container.

Apple-French Bread Bake
Submitted by: Wolfmama
6 tablespoons butter
8 ounces French bread with crust, cut into cubes
1 1/2 cup packed brown sugar
1 cup water
1 teaspoon cinnamon
2 tablespoons butter
2 large apples, peeled, cored & finely diced
6 ounces chilled cream cheese, cut into cubes
1 cup walnuts, chopped
Chilled whipped cream or vanilla ice cream
Preheat oven to 350°F. Place 6 tablespoons butter in large baking pan. Melt in the oven. Add bread cubes and toss. Bake until crisp and brown, stirring occasionally, about 20 minutes. Remove pan from oven and raise temperature to 400°F. Simmer brown sugar, water and cinnamon in saucepan until syrupy and sugar dissolves, about 5 minutes. Remove from heat and stir in 2 tablespoons butter until melted. Butter a 9"x13" pan. Combine apples, cream cheese, walnuts and bread cubes. Drizzle syrup over ingredients then mix well. Bake for 40 minutes. Cover with tin foil loosely over top if browning too fast. Serve warm with whipped cream or ice cream.

Sweet Potato Biscuits
Submitted by: Barbiel
1/2 pound sweet potato
1/4 teaspoon cinnamon
1/4 teaspoon allspice
1 1/4 cup sifted, unbleached flour
2 teaspoons baking powder
1/4 teaspoon salt
1-1/2 tablespoons chilled margarine, cut into small chunks
1/4 cup skim milk
Preheat oven to 425°F. Lightly coat a cookie sheet with non-stick cooking spray. Prick the sweet potato with a fork and bake in the oven for 1 hour, or cook in microwave on high for 8 minutes. Combine the cinnamon, allspice, flour, baking powder, and salt in a food processor. Add the margarine, and pulse 6 or 7 times, until slightly crumbly. Or cut together in a bowl with two forks or a pastry cutter. Add 3/4 cup of the baked sweet potato meat and mix until crumbly. Add the milk, a tablespoon at a time until a soft, kneadable dough is formed. You may not use all the milk, depending on the humidity. Place the dough on a lightly floured board, and knead for about 30 seconds. Roll out to 1/2-inch thickness and cut 12 rounds using a 1-1/2-inch biscuit cutter. Reshape and reroll the dough as necessary, but try not to overwork it. Lay the rounds of dough on the prepared pan and bake for 10 to 12 minutes, or until the tops are lightly browned. Serves: 12 biscuits.

To submit your favorite recipes to be included in the Garden of Friendship Recipe Book, please email them to Barbiel
Background graphics made especially for the Recipes Committee of the Garden of Friendship by Valatine