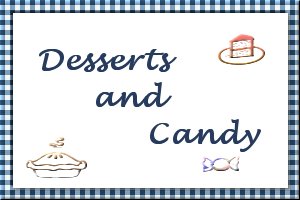 Apple Coffee Cake
Submitted by: Barbiel
2 cups biscuit mix
2/3 cup applesauce
1/4 cup milk
2 tablespoons sugar
2 tablespoons butter or margarine, softened or melted
2 apples, peeled, cored and diced
1 teaspoon cinnamon
1 teaspoon vanilla
1 egg, lightly beaten
1/4 cup biscuit mix
1/4 cup brown sugar
2 tablespoons firm butter or margarine
1 teaspoon cinnamon
1/4 cup chopped nuts, if desired
Combine first 9 ingredients. Spread in a lightly greased 3 1/2 quart crock pot (or spread in a lightly greased baking dish which fits in a larger sized crock pot). Combine streusel ingredients with a fork or pastry blender; sprinkle over the batter. Cover and cook on high for about 2 1/2 hours, until a toothpick inserted in the center comes out clean. Makes one cake, serving 6-8.

Pina Colada Cheesecake
Submitted by: Barbiel
2 envelopes unflavoured gelatin
3/4 cup sugar
1 can pineapple juice (6 oz)
3 eggs, separated
3 large packages (8 oz) cream cheese
1/4 cup dark Jamaican rum
1/4 teaspoon coconut extract
2 cans (8 oz) crushed pineapple in syrup
2 tablespoons sugar
1 tablespoon cornstarch
1 1/2 cups vanilla wafer crumbs
1 cup flaked sweetened coconut
1/3 cup butter, melted
Crust: combine wafer crumbs, sweetened coconut and melted butter. Mix well. Press mixture evenly over bottom and sides of an 8 or 9 inch pan. Chill.
Filling: mix gelatin and 1/2 cup sugar in saucepan. Add pineapple juice. Let stand until gelatin has softened. Place over low heat; stir until gelatin dissolves. Remove from heat. In large bowl, beat egg yolks well. Gradually beat hot gelatin mixtures into egg yolks. Let cool.
In medium bowl, beat cream cheese until fluffy. Add to gelatin mixture; beat until well blended. Stir in rum and coconut extract. Refrigerate gelatin mixture to chill. Stir frequently as mixture thickens. When gelatin mixture is consistency of unbeaten egg whites, remove from refrigerator. In large bowl, beat egg whites until foamy. While beating, add remaining 1/4 cup sugar, 1 tablespoon at a time, until whites hold stiff peaks. Fold egg whites into thickened gelatin mixture. Turn into prepared crust. Refrigerate for 6 hours or as long as overnight. Yields: 1 nine inch cheesecake.
Topping: combine crushed pineapple, 2 tablespoons sugar and cornstarch in saucepan. Stir until cornstarch dissolves. Cook over medium heat, stirring, until sauce boils and thickens slightly. Chill. Spoon sauce over top of cheesecake.

Chocolate Pecan Zucchini Bundt Cake
Submitted by: Barbiel
3 cups flour
1 1/2 teaspoons baking powder
1 teaspoon baking soda
1 teaspoon salt
4 eggs
3 cups sugar
3 packs soft baking chocolate
(or 3 squares, melted)
1 1/2 cups oil
3 cups grated zucchini
1 cup pecans, chopped
3 teaspoons powdered sugar
Mix first 4 ingredients and set aside. In a mixing bowl, beat eggs and add sugar, 1/4 cup at a time. Add chocolate, then add oil. Add flour mixture and blend well. Fold in zucchini and pecans. Mix well and pour into bundt pan. Bake in preheated 350°F oven for 1 hour and 15 minutes. Cool 15 minutes before removing cake from pan. Sprinkle powdered sugar on cake and serve.

To submit your favorite recipes to be included in the Garden of Friendship Recipe Book, please email them to Barbiel
Background graphics made especially for the Recipes Committee of the Garden of Friendship by Valatine