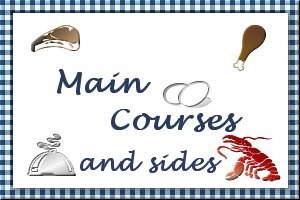 Sweet and Sour Chicken
Submitted by: Brenda
Chicken:
1 cup all purpose flour
1/2 cup cornstarch
1 teaspoon baking powder
1 cup water
2 teaspoons vegetable oil
1 pound chicken breast, cut into 1/2-inch pieces

Sweet & Sour Sauce:
1 3 1/2-ounce can pineapple chunks
1 1/3 cups sugar
2 tablespoons cornstarch
3/4 cup cider vinegar
1 tablespoon soy sauce
1/4 teaspoon ginger
1 chicken bouillon cube
CHICKEN: In small bowl, beat flour, cornstarch, salt, baking powder, water and oil with mixer until smooth. Dip chicken into batter and fry in hot oil, until golden brown. Drain and keep warm.
SAUCE: Drain pineapple juice to measure 1 1/4 cups. If not enough juice you may add water. Blend in sugar, cornstarch, vinegar, soy sauce, bouillon cube and ginger; boil slowly for 2 minutes. Place chicken in a casserole dish, pour sauce over it and top with pineapple. Green pepper strips and celery squares can also be used. Serves 4.

Chicken with Ginger-Lime Sauce
Submitted by: Brenda
3 tablespoons flour
1/2 teaspoon salt and pepper
6 skinless chicken breasts
1 teaspoon minced, peeled ginger or 1/4 teaspoon ground ginger
2 tablespoons oil
1 clove garlic, minced
1 small lime
1 tablespoon sesame oil
2 tablespoons honey
2 tablespoons soy sauce

Combine flour, salt and pepper. Coat chicken with flour mixture. Cook chicken until browned on both sides. Reduce heat; add ginger and garlic; cover and cook about 20 minutes until chicken is fork tender. Grate peel from lime; reserve for garnish. Squeeze lime juice from lime. Add lime juice, soy sauce, honey, and sesame oil to chicken. Over medium heat, heat to boiling, turning chicken occasionally to coat with sauce.

Crunchy Chicken
Submitted by: Sugie
2 cups Captain Crunch Cereal, crushed
1 1/2 cups Cornflakes, crushed
1 egg
1 cup milk
1 cup all-purpose flour
1/2 teaspoon black pepper
1 teaspoon onion powder
1 teaspoon garlic powder
2 pounds boneless skinless chicken breast
Vegetable oil for frying
Beat the egg with milk and set aside. Stir together the flour, onion and garlic powders and black pepper. Set this aside also. Dip the chicken pieces into the seasoned flour. Move around to coat well, then shake off the excess flour. Dip into the egg wash, coating well, then dip into the cereal mixture, coating well. Heat oil in a large heavy skillet to 325 degrees. Drop coated chicken tenders carefully into the hot oil and cook until golden brown and fully cooked, 3 to 5 minutes depending on size. Drain and serve immediately with Creole mustard sauce.

To submit your favorite recipes to be included in the Garden of Friendship Recipe Book, please email them to Barbiel
Background graphics made especially for the Recipes Committee of the Garden of Friendship by Valatine