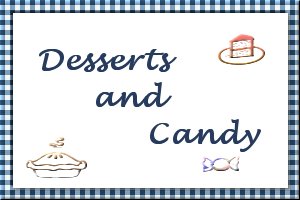 Pumpkin Dessert
Submitted by: Vadi
1/4 medium size pumpkin (1700 g)
2 1/2 cups sugar (500 g)
1 cup walnuts (100 g)
Cut pumpkin into quarters. Remove seeds and stringy interior. Pare and cut into 5-6x2 1/2 cm (2-2 1/2 inch) slices 1-11/2 cm (0.5-3/4 inch) thick. Place in a covered shallow pan. Sprinkle with sugar. Let stand for 4-5 hours until pumpkin is juicy. Cover and simmer for 1 hour or until tender. Remove from heat; cool. Arrange on a serving plate. Sprinkle with crushed walnuts. Serve at room temperature.

Blueberry Pudding
Submitted by: Wolfmama
1 tablespoon unflavored gelatin (1envelope)
1/4 cup boiling water
10 ounces tofu, drained
5 tablespoons apple juice concentrate, defrosted
1/2 teaspoon vanilla extract
1 tablespoon firmly packed brown sugar
1/2 teaspoon ground cinnamon
16 oz fresh blueberries, rinsed, drained and divided
Dissolve gelatin in boiling water, stirring until crystals disappear. In a blender or the workbowl of a food processor fitted with a metal blade, blend dissolved gelatin, tofu, apple juice concentrate, vanilla,brown sugar, cinnamon and 1cup of blueberries until smooth. Pour pudding into a bowl; fold in remaining cup of blueberries. Cover with plastic wrap and refrigerate for 4 hours or until set. Serve cold. Serves 4 (about 2/3 cup per serving).
Note: The sweetener in this recipe is apple juice concentrate.

Apple Enhilida Dessert
Submitted by: Vadi
1 (21 ounce) can apple pie filling
6 (8 inch) flour tortillas
1 teaspoon ground cinnamon
1/3 cup margarine
1/2 cup white sugar
1/2 cup packed brown sugar
1/2 cup water
Preheat oven to 350°F (175°C). Spoon fruit evenly onto all tortillas, sprinkle with cinnamon. Roll up tortillas and place seam side down on lightly greased 8x8 baking pan. Bring margarine, sugars and water to a boil in a medium sauce pan. Reduce heat and simmer, stirring constantly for 3 minutes. Pour sauce evenly over tortillas; sprinkle with extra cinnamon on top if desired. Bake in preheated oven for 20 minutes. Makes 6 large tortillas (may be cut in half to serve 12).

To submit your favorite recipes to be included in the Garden of Friendship Recipe Book, please email them to Barbiel
Background graphics made especially for the Recipes Committee of the Garden of Friendship by Valatine