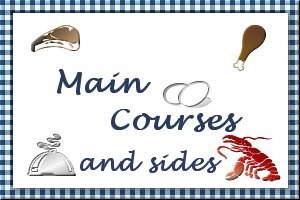 Garlic Roasted Salmon
Submitted by: Lady X
4 salmon steaks
1 teaspoon canola oil
2 teaspoon minced garlic
1 teaspoon minced ginger
Preheat the oven to 350 degrees. Coat the broiler pan and rack with cooking spray. Place the salmon on the rack and drizzle with oil. Sprinkle with garlic and ginger, patting them lightly and evenly over the surface. Bake for 9 to 13 minutes or until the fish flakes easily with a fork. Serves 4.

Salmon with Brown Sugar and Mustard Glaze
Submitted by: Sandi
3 tablespoons light brown sugar
1 tablespoon honey
2 tablespoons butter
1/4 cup Dijon mustard
2 tablespoons soy sauce
2 tablespoons olive oil
Vegetable oil
Salt and freshly ground black pepper
8 salmon fillets, 6 ounces each

On the side burner, melt the brown sugar, honey and butter in a small saute pan over medium-high heat. Remove from the heat and whisk in the mustard, soy sauce, olive oil and ginger. Let cool. Preheat grill to medium heat. Brush salmon with vegetable oil and season with salt and pepper to taste. Place the salmon skin side down on the grill. Coat the flesh of the salmon fillets with the brown sugar mixture. Grill for 6 to 8 minutes to medium doneness, turning once after 5 to 6 minutes. Yield: 8 servings

Easy Tuna Primavera
Submitted by: Tyra W.
8 ounces dry spaghetti, broken in half
3 cups broccoli florets
2 large carrots,cut in thin strips
1 can Campbell's Cream of Chicken and Brocolli Soup
3/4 cup milk
1/4 grated Parmesan cheese
1 cup shredded mozzaella cheese
1 can flaked light tuna, drained
Cook spaghetti.Add broccoli and carrots for last 5 minutes of cooking time.Drain and rinse,set aside. Combine soup,milk and Parmesan cheese in saucepan.Heat to a boil at medium,stirring often.Stir in tuna and mozzarella cheese,untill cheese melts. Add spaghetti-vegetable mixture, toss to coat. Serves 4.

To submit your favorite recipes to be included in the Garden of Friendship Recipe Book, please email them to Barbiel
Background graphics made especially for the Recipes Committee of the Garden of Friendship by Valatine