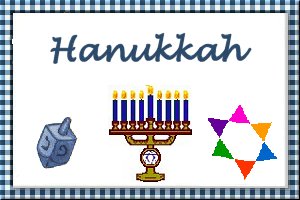 Wasabi Potato Latkes
Submitted by: Lady Lynda
2 cups warm riced potatoes (boiled in salted water, drained well)
1 tablespoon butter
1/4 cup sliced green scallions
1 tablespoon horseradish
1 tablespoon wasabi powder mixed with a little water to form paste
salt to taste
black pepper to taste
1 cup all-purpose flour
3 eggs, beaten
1 cup panko bread crumbs
In a bowl, mix warm potatoes and butter. Mix in scallions, horseradish and wasabi. Season with salt and pepper. Shape potato mixture into 2 1/2 inch diamater cakes. Dredge the cakes in flour followed by egg and finally panko. Deep fry cakes at 350°F until golden brown.

Zucchini Latkes
Submitted by: Lady Lynda
4 cups zucchini, grated
1 medium white potato, grated
1 medium onion, chopped
3 eggs
3 tablespoons flour
2 tablespoons seasoned bread crumbs
pepper to taste
garlic powder to taste
1/4 teaspoon salt
3 tablespoons vegetable oil
Mix together the zucchini, potato and onion. Whisk the eggs together and add to the vegetable/potato mixture. Mix together the flour, bread crumbs, pepper, garlic powder and salt and combine with the egg/vegetable mixture. Heat large nonstick frying pan with 3 tablespoons vegetable oil. Drop batter by spoonfuls into hot oil and fry until crisp, turning to fry on the other side. Add small amounts of oil as needed when frying. Turn out on towel paper to drain. Serve quickly, best while hot.

Fruited Wilted Spinach Salad
(Recipe Source: Better Homes and Gardens)
Submitted by: Molly
1/4 cup dried apricots, cut into 1/8-inch strips
1/4 cup dry Sherry, Cream Sherry, or dry White wine
3 tablespoons Olive oil
4 cloves garlic, minced
1/2 small red onion, halved lengthwise and thinly sliced
12 cups torn spinach leaves, well washed
3 tablespoons raspberry vinegar, red wine vinegar, or white Balsamic vinegar
1 tablespoon honey
1/4 teaspoon coarse ground pepper
1/4 teaspoon salt
one 15-ounce can pitted light or dark sweet cherries
or
one 10-ounce package frozen dark sweet cherries, thawed, drained, patted dry
1/3 cup sliced pitted kalamata olives
Place apricots in a small bowl and cover with sherry or wine. Cover and let stand 30 minutes or until plump. Drain, reserving liquid. Meanwhile, place spinach in a very large salad bowl. Heat oil in a small saucepan over medium heat. Add garlic and red onion. Cook and stir for 3 to 4 minutes or just until softened. Add reserved fruit soaking liquid, vinegar, honey, pepper, and salt. Bring to boiling. Remove from heat. Pour hot mixture over spinach. Toss just until spinach is coated and slightly wilted. Sprinkle with apricots, cherries, and olives. Makes 8 side-dish servings.
Make-Ahead Tip: Clean and tear spinach up to 8 hours in advance. Cover and chill.

To submit your favorite recipes to be included in the Garden of Friendship Recipe Book, please email them to Barbiel
Background graphics made especially for the Recipes Committee of the Garden of Friendship by Valatine