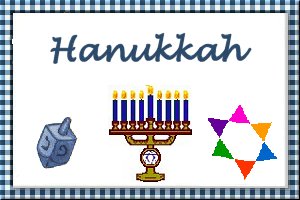 Sweet Potato Latkes
Submitted by: Merribuck
1 pound sweet potatoes, peeled and coarsely grated
2 scallions, finely chopped
1/2 cup plus 2 teaspoons all-purpose flour
2 large eggs, lightly beaten
1 teaspoon salt
1/2 teaspoon black pepper
vegetable oil
Stir together potatoes, scallions, flour, eggs, salt and pepper. Heat a film of oil in a deep 12-inch non-stick skillet over moderately high heat until hot but not smoking. Working in batches of four, spoon 1/8 cup potato mixture per latke into the oil and flatten to 3-inch diameter with a slotted spatula. Reduce heat to moderate and cook until golden, about 1 1/2 minutes on each side. Transfer Latkes with spatula to paper towels to drain.

Sugar Snap Pea, Radish and Cucumber Salad
Submitted by: Merribuck
1/2 pound sugar snap peas, trimmed and, if large, halved diagonally
1 english cucumber, halved lengthwise and seeded
1 bunch radishes (1 pound)
1/4 cup sesame seeds, toasted
1 tablespoon seasoned Rice vinegar
1 teaspoon Cider vinegar
Cook peas in a saucepan of boiling salted water just until they turn a brighter shade of green for about 30 seconds. Drain in a colander and rinse under cold water to stop cooking. Cut halved cucumber and radishes crosswise into 1/4-inch-thick half moon slices. Toss peas, cucumber, radishes, and sesame seeds with vinegars and season with salt and pepper.

Cauliflower Latkes
Submitted by: Praying Bear
1 cauliflower; cooked in water and salt
2 eggs
2 tablespoons flour
salt and pepper to taste
nutmeg
oil for frying
Drain cooked cauliflower and mash with a fork Add the rest of the ingredients, and stir to combine Deep fry in plenty of hot oil Drain in paper towels Serve at once.

To submit your favorite recipes to be included in the Garden of Friendship Recipe Book, please email them to Barbiel
Background graphics made especially for the Recipes Committee of the Garden of Friendship by Valatine