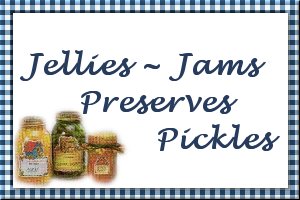 Honey Jelly
Submitted by: Kathie Maclean-Racicot
2 1/2 cups honey
3/4 cup strained fresh lemon juice
1/2 cup liquid pectin
Blend the honey and lemon juice in a large sauce-pan (it foams quite a bit when it cooks) and bring to a full rolling boil over medium heat, stirring constantly. Add pectin while stirring, bring again to a full boil and boil 1 minute. Remove from heat, skim and pour into 5 sterilised jelly glasses. Cover with paraffin while still hot. Yield 5 6-oz. jars. A delicious, amber -colored jelly that can be made anytime during the year. I love it with bran muffins.

Banana-Cinnamon Jelly
Submitted by: Barbiel
2 pounds bananas
2 cups sugar
1 teaspoon cinnamon
Juice from 1 lemon
Cook it all together until it boils and the mixture is thick. Fill (still warm) in a twist-off glass and close it.

Lime Marmalade
Submitted by: Sandi
2 pounds limes
2 lemons
8 cups water (approximately)
6 cups sugar (approximately)
Choose fruit that has not been waxed. Place fruit in a large kettle and add water just to cover. Bring to a boil and simmer until fruit can be pierced with a fork. Remove fruit, reserving water in which it was boiled. Cool fruit, cut lengthwise into quarters, remove seeds, and slice as thinly as possible. Return fruit, along with any accumulated juices, to water and measure into large kettle. For every one cup of liquid, add 3/4 cup sugar. Bring to a boil and boil quickly until mixture reaches jelly stage (220 degrees on candy thermometer). Pour into sterilized 1/2 pint or 1 pint jars, seal and process according to jar manufacturer's instructions.

To submit your favorite recipes to be included in the Garden of Friendship Recipe Book, please email them to Barbiel
Background graphics made especially for the Recipes Committee of the Garden of Friendship by Valatine