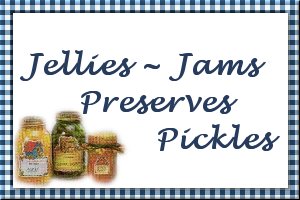 Spiced Peach Jam
Submitted by: Kitty
4 cups prepared fruit (3 pounds fully ripe peaches)
2 tablespoons fresh lemon juice
1 teaspoon ascorbic acid citric acid mixture fruit protector
1/2 teaspoon ground allspice
1/2 teaspoon ground cinnamon
1/2 teaspoon ground cloves
5 1/2 cups sugar
1 box fruit pectin for homemade jams and jellies
1/2 teaspoon margarine or butter

Peel, pit and finely chop peaches. Measure 4 cups into 8-quart saucepan. Stir in lemon juice, fruit protector and spices. Measure sugar into separate bowl. (Scrape excess sugar from cup with spatula to level for exact measure.) Stir fruit pectin into fruit in saucepot. Add margarine. Bring to full rolling boil on high heat, stirring constantly. Quickly stir in all the sugar. Return to full rolling boil and boil exactly 1 minute, stirring constantly. Remove from heat. Skim off any foam with metal spoon. Ladle quickly into hot sterilized jars, filling to within 1/8 inch of tops. Wipe jar rims and threads. Cover with two-piece lids. Screw bands tightly. Invert jars 5 minutes, then turn upright (or follow water bath method recommended by the U.S. Department of Agriculture). After jars are cool, check seals. Makes about 7 1-cup jars.

Crock Pot Apple Butter
Submitted by: Brenda
Apples, peeled, cored and finely chopped
4 cups sugar
3 teaspoons cinnamon
1/4 teaspoon ground cloves
1/4 teaspoon salt
Fill crock pot heaping full of chopped apples. (Lid may not fit at start, but apples shrink as cooked). Mix sugar, cinnamon, cloves and salt together; drizzle over apples. Cover and cook on high setting for 1 hour; lower heat to low setting and cook all day, until thick and dark in color. You can't cook it too long, the longer the better. Stir occasionally. When finished cooking, let cool a little, then put in blender to make it smooth. Put in small jelly jars and seal. Can also be frozen.

Apple-Clove Butter
Submitted by: Jezebel Jen
4 pounds McIntosh apples, peeled, cored, cut into 1-inch pieces
1 cup apple cider
1/4 cup orange juice
1 cinnamon stick, broken in half
3/4 cup brown sugar
2 teaspoons grated orange peel
1/2 teaspoon ground cloves
Combine apples, cider, orange juice and cinnamon stick in heavy large saucepan. Bring to boil. Reduce heat to medium-low. Cover and simmer until apples are very tender, stirring occasionally, about 10 minutes. Discard cinnamon stick. Puree apple mixture in processor. Return to same saucepan. Stir in brown sugar, orange peel and cloves. Simmer over medium-low heat until mixture is dark in color and thick, and mounds on spoon, stirring frequently, about 45 minutes. Transfer to large bowl. Cool completely. (Can be prepared 1 week ahead. Cover and refrigerate.) Makes about 3 1/2 cups.

To submit your favorite recipes to be included in the Garden of Friendship Recipe Book, please email them to Barbiel
Background graphics made especially for the Recipes Committee of the Garden of Friendship by Valatine