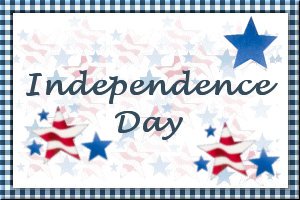 Red, White and Blue Parfaits
Submitted by: PrayingBear
1 can cherry or strawberry pie filling
1 package cheesecake flavor pudding
1 can blueberry pie filling
whipped topping
Prepare pudding according directions. In four parfait glasses, layer ingredients as follows: 1/3 cup cherry or strawberry pie filling, 1/2 cup prepared pudding, 1/3 cup blueberry pie filling. Chill for several hours. Top with whipped topping before serving. Makes 4 servings.

Red, White and Blue Fruit Salad
Submitted by: LisaW
1/4 cup fresh lime juice
1/4 cup honey
2 tablespoons fresh chopped mint
3 cups fresh blueberries
1 quart fresh strawberries, hulled and halved
3 medium apples, peeled and cut into 1-inch cubes
In a large bowl, whisk together the lime juice, honey and mint. add all the fruit and toss to combine. Let the fruit salad stand for 15 minutes to allow flavors to blend. Serves 8.

All-American Ice Cream Cake
Submitted by: katycoo
Vanilla ice cream
1 1/2 cups sugar
1 cup oil
2 eggs
1 cup buttermilk
2 tablespoons red food coloring
2 tablespoons cocoa powder
1 teaspoon salt
2 1/4 cups cake flour
1 tablespoon vinegar
1 teaspoon baking soda
2 pounds Cream cheese, softened
1/2 to 1 1/2 cups powdered sugar to taste
1 teaspoon Vanilla extract
blackberry jam
Preheat oven to 375° F. Grease and flour a 10-inch springform pan. In a large bowl, beat together sugar, oil and eggs. Whisk in buttermilk. In a small bowl, combine food coloring and cocoa. Add to egg mixture. Sift salt and flour into batter and mix well. Combine vinegar and baking soda in a small bowl and add to batter. Immediately pour batter into prepared pan and bake 30-40 minutes. Cool cake in the pan for 10 minutes, then remove from pan and cool completely. Whip cream cheese until light and fluffy. Add sugar and Vanilla. Mix well. Slice cake horizontally into three equal layers. Place bottom layer back into springform pan. Spread with approximately 1 cup of softened ice cream to make a 1-inch layer. Freeze until solid. Spread blackberry jam on top of ice cream layer and place second cake layer on top. Spread with another layer of ice cream and freeze. Top with jam and last cake layer. Freeze until solid. Unmold the cake onto a platter and coat with cream cheese frosting. Freeze until 15 minutes before serving time. Use a knife dipped in hot water to cut slices. Serves 16-20.

To submit your favorite recipes to be included in the Garden of Friendship Recipe Book, please email them to Barbiel
Background graphics made especially for the Recipes Committee of the Garden of Friendship by Valatine