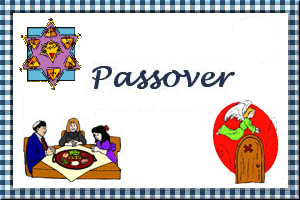 Passover Cupcake Blintzes
Submitted by: Jana
1 lb. creamed cottage cheese
2 oz. melted butter
3/4 cup sugar
little less than 1/2 cup cake meal
4 beaten eggs (can use egg substitute)
Mix all ingredients together except eggs; then add eggs. Grease muffin tins. Fill tins 3/4 full. Bake 350°F for 40-45 minutes if using large muffin tins. Smaller muffin tins will require less time. Serve with sour cream or jelly.

Passover Cookies
Submitted by: Barbiel
1/2 cup oil
1/2 cup sugar
2 eggs
3/4 cup cake meal
1 tablespoon grated lemon
jam (to fill cookie)
Cream oil and sugar. Add eggs and cake meal. Form in little balls and put on greased cookie sheet. Place thumb in middle to indent (dampen thumb before making indentation). Fill with jam. If batter is too thin to handle, add more cake meal. Bake at 450°F for 10-12 minutes. Sprinkle with cinnamon and sugar. Cool before serving.

Meringue Cookies
Submitted by: Barbiel
3 egg whites
1 teaspoon vanilla sugar
1 cup sugar
12 oz. bag chocolate chips
Preheat oven to 400° F. Beat the egg whites with a mixer until they are stiff. Beat in sugar and vanilla sugar. Mix in chocolate chips by hand. Drop by teaspoonfuls on to cookie sheet. Place in oven and immediately turn it off. Leave in oven overnight. In the morning, remove from cookie sheet and serve.

To submit your favorite recipes to be included in the Garden of Friendship Recipe Book, please email them to Barbiel
Background graphics made especially for the Recipes Committee of the Garden of Friendship by Valatine