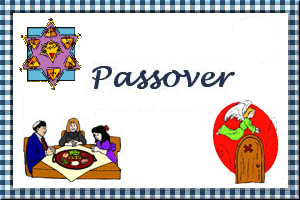 Passover Butterballs
Submitted by: Clyde
1/2 lb butter or margarine
2 eggs
1 cup cake meal
1 teaspoon Vanilla
1 cup sugar
Cream butter and sugar. Add remaining ingredients and mix well. Chill several hours or overnight. Shape and bake at 350°F for 20 minutes. You can also roll into long pieces and tie in a knot and dip into cinnamon/sugar mixture.

Chocolate Nut Clusters
Submitted by: Shannon
12 oz. chocolate, melted (milk or semi-sweet)
1/4 cup vegetable oil
1/2 cup walnuts, slightly chopped (cashews may be substituted)
1/2 cup raisins
1 cup matzoh farfel
Melt chocolate. Mix well with all other ingredients. Spoon onto a cookie sheet with heaping teaspoon. Refrigerate until cluster hardens. Enjoy!! Keep refrigerated.

Forgotten Cookies
Submitted by: Clyde
2 egg whites
3/4 cup sugar
1 teaspoon Vanilla
1/4 teaspoon salt
1 cup broken pecans
1 cup chocolate chips
Preheat oven to 350°F. Line 2 cookie sheets with foil. With electric mixer, beat egg whites until peaks begin to form. Add sugar slowly. Add vanilla and salt. Beat until everything is very still and very shiny. Fold in pecans and choc. chips. Drop by tsp. onto the prepared cookie sheets and place in preheated oven. Turn off the oven and forget the cookies until the next morning. Makes 3 dozen cookies.

To submit your favorite recipes to be included in the Garden of Friendship Recipe Book, please email them to Barbiel
Background graphics made especially for the Recipes Committee of the Garden of Friendship by Valatine