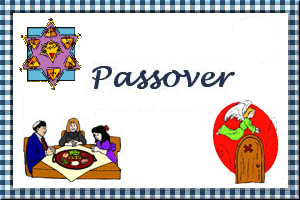 Gefilte Fish from a Jar
Submitted by: Merribuck
1 large Jar gifilte fish; good brand
1 bunch beets
1 bunch carrots
2 large onions
pepper (as you like)
salt to taste
Take a large jar (at least 8 to 12 pieces). Buy a good brand. Slice the carrots, beets and onions. Layer in a heavy stock pot, add the beets, pieces of fish, onions, carrots and seasonings. Repeat as many times as is necessary with everything but the beets. Pour the liquid from the jar over the fish and then bring to a boil. Simmer for about 45 minutes. Cool, remove from liquid and serve. Yield: 6 servings.

Traditional Charoset
Submitted by: Merribuck
3 ounces (75g /3/4-cup) walnuts
1/4 large cooking apple
kosher wine to moisten
2 level teaspoons cinnamon
2 level teaspoons sugar
Mince the walnuts and the apple. (You can use the food processor for this). Moisten with the kosher wine and flavor with cinnamon and sugar. The consistency should be that of mortar. Makes 20 1/2-teaspoons servings.
Note: Keeps 3 days under refrigeration.

Potato Latkes with Variations
Submitted by: Merribuck
1 1/2 pounds russet potatoes peeled
1/4 cup finely chopped shallots
2 large eggs, lightly beaten
2 tablespoons matzo meal (during Passover)
1 1/2 teaspoons salt and freshly ground black pepper
vegetable oil for frying
In a food processor grate the potatoes. Line a sieve with cheesecloth and transfer potatoes to the sieve. Set sieve over a bowl, twist cheesecloth into a pouch, squeezing out some moisture. Let mixture drain for 15 minutes. After 15 minutes, pour off liquid from the bowl but leave the white potato starch that settles in the bottom of the bowl. To that starch add shallots, eggs, flour, 1-1/2 teaspoons of salt and freshly ground pepper. Return drained potatoes to this mixture and toss to combine. Preheat oven to 200°F. Line a baking pan with paper towels. When you are ready to eat, in a large skillet heat 1/4 inch of oil over medium high heat until hot. Drop heaping tablespoonfuls of potato mixture and cook for 3 to 4 minutes a side; latkes should be golden and crisp on both sides. Eat right away or keep warm in oven. Serve with applesauce or sour cream or cottage cheese mixed with sour cream.
Variations:
South Western Style omit the shallots; mix the batter with chopped herbs such as cilantro, scallion and dried oregano. Serve topped with slivers of roasted red peppers, grated Jack cheese and salsa.
Curried Style mix potatoes with some curry powder. Make a circle of sliced fresh tomatoes on a dinner plate. Center 3 to 4 overlapping pancakes in an inner circle and center a dollop of sour cream and hot pickle in the middle.
Italian Style mix potatoes and onion with a smidgen of raw garlic and thin slices of prosciutto. Cook in olive oil and serve topped with fresh ricotta cheese and surrounded with a dice of seeded tomatoes mixed with basil and vinaigrette.

To submit your favorite recipes to be included in the Garden of Friendship Recipe Book, please email them to Barbiel
Background graphics made especially for the Recipes Committee of the Garden of Friendship by Valatine