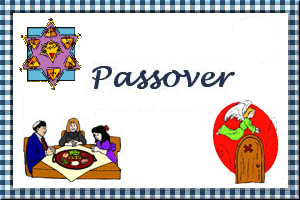 Baked Farmer Cheese
Submitted by: Betty G
8 oz. farmer cheese
2 eggs
1 cup sugar
1/2 teaspoon Vanilla
1/2 teaspoon lemon juice
Mix the eggs with the sugar, Vanilla and lemon juice. Mix in the farmer cheese. Pour into small loaf pan. Bake at 325°F for 60 minutes or until firm.
Note: Great on Matza

Winter Squash with Apricot Stuffing
Submitted by: Vadi
2 cups uncooked matzah farfel or 4 whole matzah, crumbled
1 cup chopped red onion
1/2 cup chopped celery (complete with leaves if possible)
1 garlic clove, minced
1 1/2 cups vegetable stock
vegetable oil spray
1/2 cup chopped dried apricots
1/4 cup chopped cashews (optional)
2 tablespoons chopped fresh parsley
2 teaspoons ground black pepper
3 acorn squash
(butternut, cut in half and deseeded, or small winter squash)
Preheat oven to 375°F. In a large pot, such as a Dutch oven, spray oil and allow to heat. Add farfel, onion, celery, and garlic and saute for 6 minutes, or until very soft. Add stock, apricots, and cashews (optional) and simmer for 12 minutes, or until mixture is thickened. Stir in parsley and pepper. Place squash, cut side down on a baking sheet or shallow casserole. Add water to cover 1 inch of the squash. Spray squash skin lightly with vegetable oil. Bake for 20 minutes, until halfway cooked (still fairly tough). (This can be done in a microwave also, cooking on HIGH for 10-12 minutes). Remove squash from oven, turn upright and allow to cool for 5 minutes. Fill each squash half with stuffing. Bake for 50 minutes, or until squash is soft (easily pierced with a knife). Serve an entire half for an entree portion or one quarter for an appetizer portion.
Note: The house will smell wonderful while you are baking this dish. Use a selection of winter squashes to create variations.

Tzimmes
Submitted by: Vadi
6 cups raw sweet potatoes, peeled and sliced
6 cups sliced, unpeeled cooking apples, such as Rome
1.5 cups scraped, sliced carrots
1 cup small, pitted prunes, cut in half
2 teaspoons grated orange peel (colored zest only, about 1 orange)
1/4 cup unsweetened orange juice (about 1 orange)
1/4 cup honey (I successfully omitted recently)
2 tablespoons light brown sugar (I used 1 tablespoon)
Dusting of ground cinnamon or cinnamon and ground ginger
Preheat oven to 350°F. Prepare 9x13 baking pan with spray coating. Layer half of the potatoes in bottom of pan, overlapping edges. Repeat with half of apples, then spread over these half of the carrots and prunes. Repeat layers. Combine remaining ingredients and drizzle evenly over the layers. Cover securely with a sheet of aluminum foil. Pierce with 8 1" slits as steam vents. Bake for 1 - 1.5 hours, or until steamed and tender.

To submit your favorite recipes to be included in the Garden of Friendship Recipe Book, please email them to Barbiel
Background graphics made especially for the Recipes Committee of the Garden of Friendship by Valatine