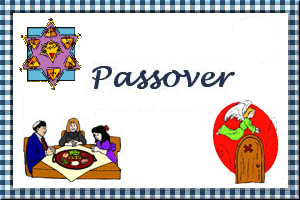 Onion Pudding
Submitted by: Barbiel
6 eggs, yolks and whites separated
4 onions, finely chopped
1/3 cup matzo meal
1 1/2 teaspoons salt
1/4 teaspoon black pepper
1/3 cup melted shortening
Beat the egg yolks in a bowl. Add the onions, matzo meal, salt, pepper and shortening. Mix well. Preheat the oven to 350°F Beat the egg whites until stiff but not dry. Fold them into the onion mixture. Pour into a greased 2-quart casserole or baking dish. Bake for 40 minutes. Serves 4-6.
Note: You can use sliced eggplant, green peppers or shredded cabbage between layers of matzos.

White Bean and Artichoke Salad
Submitted by: Lady Lynda
3 cups white beans, drained
1/2 (14 ounce) can artichoke hearts, drained and quartered
2/3 cup diced green bell pepper
1/3 cup chopped black olives
1/4 cup chopped red onion
1/4 cup chopped fresh parsley
1/4 ounce chopped fresh mint leaves
3/4 teaspoon dried basil
1/3 cup Olive oil
1/4 cup Red Wine vinegar
salt to taste
pepper to taste
In a large bowl, combine beans, artichoke hearts, bell peppers, olives, onion, parsley, mint, and basil. In a jar or small bowl, combine oil and vinegar; shake together or mix well. Pour oil and vinegar over the salad, and toss to coat. Cover and chill in refrigerator for several hours or overnight, stirring occasionally, to let flavors blend. Makes 8 servings.
Note: This is a flavorful cold salad. Can be served any time of year, but it is a standard for Seder. The flavor is even better the next day.

Greens with Pears and Pecans Salad
Submitted by: SueW
1/2 cup pecan halves
2 tablespoons Cider vinegar
1 tablespoon chopped shallots
salt and freshly ground black pepper, to taste
7 tablespoons extra-virgin Olive oil
1 quart baby salad greens, washed and dried
4 pears, quartered, cored and sliced
1/4 pound Blue cheese, crumbled
Preheat the oven to 350°F. Spread the pecans out on a baking sheet and toast in the oven until they smell nutty, 7 to 10 minutes. Stir the pecans once or twice as they toast. Transfer the pan to a wire rack to cool. In a small bowl, whisk together the vinegar, shallots, salt and pepper. Slowly drizzle in the oil, whisking to incorporate. Taste and adjust the seasonings. In a large bowl, toss together the greens, pears, Blue cheese and dressing. Taste and add more salt and pepper if needed. Sprinkle the nuts on top and serve immediately.

To submit your favorite recipes to be included in the Garden of Friendship Recipe Book, please email them to Barbiel
Background graphics made especially for the Recipes Committee of the Garden of Friendship by Valatine