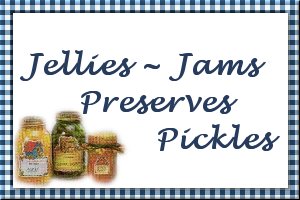 Apple Pickles
Submitted by: Cricket
2 cups pared and quartered apples
1 cup mild vinegar
1/8 teaspoon cloves
1 stick cinnamon
2 cups sugar
Combine sugar, vinegar, and spices. Boil 5 minutes. Add fruit and cook until tender. Pack in sterilized jars. Fill to within 1/4 inch of top with syrup.
Note: Other fruits such as peaches, pears and crab-apples may be substituted for apples.

Sourthern Fried Dill Pickles
Submitted by: Cricket
1 cup cornmeal
2 eggs, beaten
2 1/4 cups flour
1 cup milk
1 tablespoon Worcestershire sauce
1/2 teaspoon hot sauce (like Tabasco)
1 teaspoon salt
3/4 teaspoon pepper
1/4 teaspoon Mrs. Dash or seasoned salt
1/4 teaspoon garlic powder
3/4 teaspoon cayenne pepper
1 quart sliced dill pickles
vegetable oil
salt and pepper
Combine 2 eggs, 1/4 cup flour, milk, Worcestershire sauce, hot sauce, cayenne pepper, Mrs. Dash, and garlic powder; stirring well. Set aside. Combine cornmeal, 2 cups flour, salt, and pepper. Mix well. Dip drained pickles into milk mixture and dredge in flour mixture. Deep fry at 350°F until golden brown. Drain. Seaspn with salt and pepper.
Note: Also works great with pepperoncinis!

Cantaloupe Pickles
Submitted by: Cricket
4 cups sugar
3 cups water
1 tablespoon allspice
1 tablespoon whole clove
1 large stick cinnamon
1 cup vinegar
cantaloupe rind
Select melons which are slightly under ripe. Remove rind and all soft portion. Cut in pieces suitable for serving. Cover with a brine made by dissolving 4 tablespoons salt in 1 quart water. Let stand 3 hours. Drain. Rinse in cold water. Add rind to sirup made of remaining ingredients. There should be sufficient sirup to cover rind. Boil 10 minutes. Let stand overnight. Boil slowly until rind is clear.

To submit your favorite recipes to be included in the Garden of Friendship Recipe Book, please email them to Barbiel
Background graphics made especially for the Recipes Committee of the Garden of Friendship by Valatine