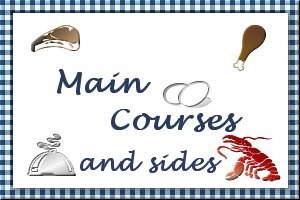 Schnitzel
Submitted by: Char
Lean pork chops
Pepper
Flour
Bread crumbs
Salt
Paprika
Eggs
Oil or shortening for frying
Prepare the meat by trimming off the fat. Flatten or pound it to uniform thickness. Season with a mixture of salt, pepper and paprika. The next steps are easier to do if you handle the meat with a fork-otherwise you will have a goopy mess on your fingers. Dredge the meat in flour. Make sure it is well coated. Lightly beat the eggs in a bowl. Dip the chops into the eggs and cover them with breadcrumbs. Leave the meat rest on a cookie sheet or on a wire rack for a while to give the breading a chance to adhere better. Preheat your oven to 225 degrees. Heat the fat in a large skillet. Cook the Schnitzel on both sides until they are nicely browned. When all of them are finished put them into the oven for about 1/2 hour.

Pork Chops with Mushroom Gravy
Submitted by: Cathie
4 - 6 pork chops
1 medium onion
1 can mushroom soup
Garlic salt
Chinese brown gravy
Egg noodles
Slice or Chop onion. Brown in small amount of oil. Brown chops; sprinkle with garlic salt. Cook approximately 15 minutes in electric frypan, covered. Remove chops. Add soup and 1/2 can water and 1 teaspoon Chinese gravy. Stir to make gravy. Return chops. Simmer about 1 hour. Cook noodles and serve together.

Baked Pork Chops
Submitted by: Cathie
8 pork chops
1 teaspoon salt
8 thin onion slices
8 thin lemon slices
Brown sugar
Ketchup
Trim fat from chops. Place in shallow baking dish; sprinkle with salt. Top each chop with onion slice and lemon slice. Spread with a light covering of ketchup and then sprinkle with brown sugar. Cover with foil and bake at 350 degrees for 1 hour. Uncover and bake 15 minutes longer.

To submit your favorite recipes to be included in the Garden of Friendship Recipe Book, please email them to Barbiel
Background graphics made especially for the Recipes Committee of the Garden of Friendship by Valatine