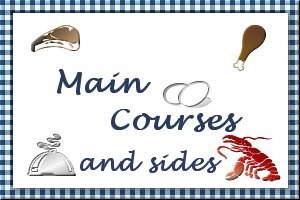 Alfredo Sauce
Submitted by: Vadi
1 stick butter
2/3 cup Sour cream or light cream
3/4 cup grated Parmesan cheese
1 egg yolk, slightly beaten
2 tablespoons chopped parsley (optional)
250 g italian pasta (your choice)
Cook pasta. Meanwhile over low heat, melt butter. Add sour cream, then egg yolk. Add cheese. Heat until hot but not boiling. Toss with pasta. Garnish with parsley. Serves 4.

Robust Garden Pasta Sauce
Submitted by: Molly
1/4 cup Olive oil
2 cloves garlic, crushed
1 orange bell pepper, seeded and cut into 1/2-inch wide strips
1 1/2 cups sliced zucchini
1 cup cremini, porcini, or wild mushrooms, sliced into thirds
1/2 cup whole Alphonso olives
1 teaspoon dried oregano
fresh rosemary, to taste
pinch of fresh mint
juice of 1/2 lemon
In a large frying pan, heat the oil over medium heat. Saute the garlic until golden. Add the peppers and saute until slightly soft. Add the zucchini and cook another 2-3 minutes, or until tender. Add the mushrooms and olives, and cook another 3-5 minutes. Add the herbs and lemon juice. Toss and remove from heat. Serve immediately over pasta or risotto. Yields 2 1/2 cups.

Parsley-Chili Sauce
Submitted by: Barbiel
2-3 bunches of fresh parsley
2 cloves of garlic
200 g Mozzarella cheese
3 tablespoons pine seeds
3 little red chilies
10 tablespoons Olive oil
salt to taste

Mince parsley, slice garlic cloves, dice Mozzarella cheese. Roast the pine seeds. Cook chilies and garlic in hot Olive oil, then take out the chilies. Mix in the Parsley, cheese and pine seeds and a little salt. Serve hot over your favorite pasta. Makes 4 servings.

To submit your favorite recipes to be included in the Garden of Friendship Recipe Book, please email them to Barbiel
Background graphics made especially for the Recipes Committee of the Garden of Friendship by Valatine