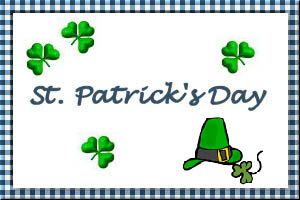 Wild Irish Rose
Submitted by: Jana
1 ounce lime juice
1 ounce Grenadine
1 ounce Bushmill's
7 ounces Gingerale
Mix and pour over ice. top with ginger ale in a 12 oz glass.
Note: The drink ooks like a sunset, red at the bottom fading to pink at the top. If you use only 1/2 oz Bushmill's is a Mild Irish Rose...

Irish Cup O' Joe
Submitted by: AngelBreath
1 shot Bailey's Irish Cream
1 oz chocolate syrup
fill with coffee
Pour Baileys and chocolate syrup in a coffee mug. Fill with hot coffee, stir and enjoy.

Irish Curdling Cow
Submitted by: AngelBreath
3/4 oz Bailey's Irish Cream
3/4 oz Bourbon Whiskey
3/4 oz Vodka
2 - 3 oz orange juice
Pour Irish Cream, Vodka, and Bourbon into a highball glass. Add some ice and mix in the orange juice. Serve.

To submit your favorite recipes to be included in the Garden of Friendship Recipe Book, please email them to Barbiel
Background graphics made especially for the Recipes Committee of the Garden of Friendship by Valatine