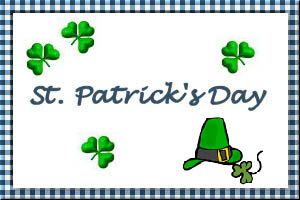 Fried Cabbage
Submitted by: Merribuck
4 strips bacon, diced
2 garlic cloves, crushed
1 large yellow onion, peeled and sliced
2 pounds cabbage, cored and sliced
1/2 teaspoon caraway seeds
1/2 cup chicken soup stock
1/2 cup dry white wine
salt and black pepper, freshly ground, to taste
Heat a large Dutch oven and add the bacon. Saute until cooked, but not crisp. Add the garlic and onion. Saute until the onion is clear. Add the cabbage, caraway, stock and wine. Cover and cook until the cabbage collapses, about 5 minutes. Remove the lid and cook until the liquid is reduced a bit, about 10 minutes, stirring now and then. The cabbage should be barely tender. Do not overcook.
Note: 3 tablesppons of olive oil can be substituted for the bacon

Dublin Coddle
Submitted by: Merribuck
1-1/2 pounds pork sausage, cut into 1-inch pieces
1-1/2 pounds smoked ham, cut into 1-inch dice
1 quart boiling water
2 large yellow onions, peeled and thinly sliced
2 pounds potatoes, peeled and thickly sliced
4 tablespoons chopped parsley
salt and freshly ground black pepper to taste
Place the sausage and ham in the boilng water and boil for 5 minutes. Drain but reserve the liquid. Put the meat into a large saucepan (or an oven-proof dish) with the onions, potatoes, and parsley. Add enough of the stock to not quite cover the contents. Cover the pot and simmer gently for about 1 hour, or until the liquid is reduced by half and all the ingredients are cooked but not mushy. you may need to remove the lid during the last half of the cooking process. Season with salt and pepper. Serve hot with vegetables on top and fresh Irish Soda Bread and a glass of stout.

Irish Omelet
Submitted by: Barbiel
4 large eggs
1 kg cooked potatoes, mashed
squeezed lemon juice
1 tablespoon chopped chives or scallions
salt and peppers
1 tablespoon butter
Separate the eggs and beat the yolks: add to the mashed potato, mixing thoroughly, then add the lemon juice, chives, salt and pepper. Melt the butter in the omelet pan. Whisk the egg whites until stiff and stir them into the potato mixture. Cook the mixture until golden, then run under the boiler to finish and puff it up. Serve at once. Serves 4.

To submit your favorite recipes to be included in the Garden of Friendship Recipe Book, please email them to Barbiel
Background graphics made especially for the Recipes Committee of the Garden of Friendship by Valatine