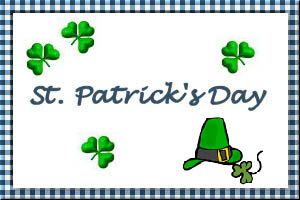 Pasta with Irish Bacon and Broccoli
Submitted by: Barbiel
4 slices Shannon Traditional Irish Bacon
(cut crosswise into 1/4 inch strips)
8 ounces dried corkscrew or quill-shaped pasta
2 cloves garlic, minced
1 small onion, finely chopped
1/2 cup de-fatted chicken broth
1/8 teaspoon dried hot pepper flakes
4 cups fresh broccoli florets
2 tablespoons grated Parmesan cheese
Cook pasta in large amount of salted boiling water. While pasta is cooking, in non-stick skillet over medium heat, cook bacon strips just until they begin to brown. Stir in garlic and onions; cover and cook for several minutes or until onion is soft. Raise heat to medium-high. Add chicken broth, hot pepper flakes and broccoli. Cover and cook for 7 to 8 minutes until broccoli is crisp-tender and still bright green. Stir in grated Parmesan and salt to taste. Toss with hot cooked pasta. Serve immediately. Makes 4 servings.

Irish Smashed Potatoes
(Colcannon)
Submitted by: Barbiel
2 cups green cabbage, shredded
2 cups mashed potatoes
1/4 cup green onions, sliced
1/8 teaspoon pepper
butter or margarine
parsley
Heat 1/2-inch water to boiling. Stir in cabbage, cover and heat to boiling. Cook 5 minutes, drain. Prepare mashed potatoes, fold in cabbage, onions and pepper. Dot with butter, sprinkle with parsley. Serves 4.

Irish Colcannon
Submitted by: Cookie
6 large potatoes, peeled and quartered
5 cups chopped cabbage
1 cup milk
1/2 cup chopped green onion or leeks
1/2 cup snipped parsley
salt to taste
white pepper
2 tablespoons margarine or butter
InstructionsIn a large saucepan cook potatoes, covered until tender. Drain. In a medium saucepan, cook cabbage in salted water for 2 minutes uncovered. Cover and cook for 6 to 8 minutes more or until tender. Mash potatoes, stir in milk, onions, parsley and onions. Season to taste with salt and pepper. Add butter and drained cabbage. Stir until butter is melted and mixture is combined. Serves 4-6.

To submit your favorite recipes to be included in the Garden of Friendship Recipe Book, please email them to Barbiel
Background graphics made especially for the Recipes Committee of the Garden of Friendship by Valatine