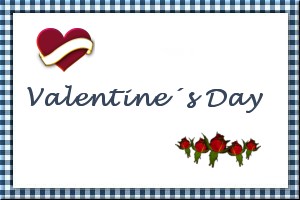 Valentines Cookies
Submitted by: Lady Lynda
1/2 pound butter, softened
2 1/2 cups sifted all-purpose flour
1 cup sifted confectioners' sugar
1 tablespoon milk
1 teaspoon Vanilla extract
Preheat oven to 325°F (170°C). Mix butter in a mixer until light, add remaining ingredients. Knead until velvety. Roll one-half of the dough at a time to about 1/4 inch thickness using the smallest amount of flour possible. Cut out and bake on a lightly greased pan for 12 minutes. Cookies will be almost white when cooked. Yields: 12 servings.

Peppermint Pink Valentine Mold
Submitted by: Lady Lynda
1 (.25 ounce) package unflavored gelatin
1/2 cup white sugar, divided
1/8 teaspoon salt
2 eggs, separated
1 1/4 cups milk
1/4 teaspoon peppermint extract
3 drops red food coloring
1 cup whipping cream, whipped
In a medium saucepan over no heat, combine gelatin, 1/4 cup sugar and salt, mix well and reserve. In a medium bowl, beat together egg yolks and milk, add to gelatin mixture. Cook gelatin and egg mixture in saucepan over low heat. Stir constantly until the gelatin dissolves and mixture thickens slightly or about 5 minutes. Remove from heat and add peppermint extract or candy. Add food coloring and mix. Chill in refrigerator until mixture is slightly thicker than the consistency of unbeaten egg whites. In a small bowl, beat egg whites until stiff, but not dry. Gradually add remaining sugar and beat until very stiff and fold into gelatin mixture. Fold in whipped cream. Turn into a 5-cup heart-shaped mold. Chill until firm. Unmold and garnish with additional whipped cream, if desired. Serve. Yields: 6 servings.
Note: Use your favorite heart-shaped mold to form this charming, minty pink gelatin and whipped cream dessert, enriched with egg yolks and beaten egg whites.

Chocolate Ganache Tart with Cherries Jubilee
Submitted by: Lady Lynda
Crust
1 cup chocolate cookie crumbs (finely ground in food processor or some stores sell them already ground)
2 tablespoon white sugar or Splenda
3 tablespoon butter, melted
Ganache
1/2 pound dark chocolate (bittersweet is better look for a cocoa content of 60% or higher)
1/4 cup cream
Cherries Jubilee Topping (recipe below)
Crust: Pull out your 9" tart pan. The one with the fluted edges if you have one. Pour in the cookie crumbs, the butter and the sugar. Stir with a fork until well blended. You can do this right in the pan. Then spread the mixture so it covers the bottom of the pan and up the sides. This takes a little trickery to not have holes but be patient and you'll get it all to spread. You can cover the crumbs with cling wrap to keep your fingers clean if you like. Bake the crust at 350°F for 8 minutes. Let cool on the counter.
Ganache Filling: Dice your chocolate into small bits. The smaller the pieces the quicker it will melt. Put the chocolate in a heat proof bowl. Heat the cream on the stove top in a heavy pan until bubbles form around the edges and it's just about to boil. It needs to be very warm but not boiling. Immediately pour this over the chocolate and stir until the whole mixture is a lovely dark brown. Then pour it in the tart pan over the crust. Spread if necessary so it goes to the edges. Refrigerate.
Serve: You have two choices. You can cut the chocolate tart and serve the topping on top or you can spread the cherries on top and then cut. I prefer to serve the cherries on top because if I have leftovers the cherries will make the crust mushy. They are too juicy for long-term storage as an assembled tart. Optional: You can also add a dollop of whipped cream on top.
Cherries Jubilee Topping:
3 tablespoons currant jelly
1 tablespoon butter
1/4 cup kirsch (Kirschwasser) or clear cherry brandy (if you do not drink alcohol just use a teaspoon of cherry flavoring or Vanilla)
1 19 oz. can sweet cherries, drained (not pie filling or Maraschino)
2 teaspoons corn starch, dissolved in 1/4 cup water
Melt the jelly and the butter in a medium sauté pan until fully melted. Stir to break up the jelly and make sure it doesn't stick. Turn the heat off and add the kirsch. This is just for safety. Kirsch has alcohol in it and it could flame up if you accidentally spilled some and it got exposed to the flame. Be careful. Turn the heat back on and put it now on medium high. Add the cherries and the cornstarch mixture. Stir until well blended. You are now going to leave this on medium to medium-high to reduce the mixture. The cornstarch will help it thicken up. Almost as thick as pie filling but not quite. This will take 9 - 12 minutes depending on the power of your burner. (If you did this with vanilla or cherry flavoring your reduction time will be faster because you have less liquid to boil down). Just stir it around once a minute or so. The liquid will be close to evaporated and the cherries will have a nice glaze on them. Let cool and then refrigerate the topping. Optional: Whipped cream for topping

To submit your favorite recipes to be included in the Garden of Friendship Recipe Book, please email them to Barbiel
Background graphics made especially for the Recipes Committee of the Garden of Friendship by Valatine