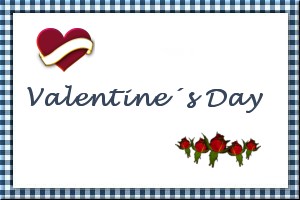 Valentine Meringues
Submitted by: SueW
3 egg whites
3 1/2 tablespoon raspberry jello (dry)
3/4 cup sugar
dash of salt
1 teaspoon vinegar
6 oz. chocolate chips
Beat egg whites gradually adding jello and sugar until they are stiff and glossy. Fold in vinegar and salt; beat well. Add chips. Drop by teaspoons on ungreased baking sheet. Bake in oven at 250°F for 40-50 minutes.

Espresso Madness Cheesecake
Submitted by: KatjaGirl
Crust:
26 chocolate cookies, crushed
2 tablespoons sugar
2 tablespoons coffee grounds, fine
1/4 cup butter, melted
Filling:
24 oz. cream cheese, softened
12 oz. chocolate chips, melted
3/4 cup sugar
3 tablespoons flour
3 eggs, 2 egg yolks
1/3 cup extra strong coffee
1 cup whipping cream
Pre heat oven to 350°F. Grease a 9" springform pan.
Crust: Mix all the crust ingredients together into a bowl. Put down the crumb mixture into the springform pan and set aside in the refrigerator.
Filling: Beat the cream cheese in a medium bowl, until soft. Melt the chocolate chips in a small pan and set aside. Add the sugar to the cream cheese and beat until fluffy. Add the flour and beat in the eggs, one at a time, into the cream cheese. On a low speed, blend in the melted chocolate, coffee and whipping cream. Pour the batter over the crust and bake for 1 hour. Turn the heat off and leave the cake in the oven, for 40 minutes. Do not open the door!!! Remove the cake from the oven and finish cooling before cutting. Makes 1 cake.

Valentine´s Day Cookie Dessert
Submitted by: Lady Lynda
1 (18 ounce) package refrigerated sugar cookie dough
1 (8 ounce) package cream cheese
1 cup confectioners' sugar
1 (21 ounce) can cherry pie filling
1 (8 ounce) container frozen whipped topping, thawed

Preheat oven to 350°F (175°C). Roll the cookie dough to 1/4 inch thick and form it into a heart shape. Place the heart shape on a cookie sheet. Bake at 350°F (175°C) for 10 minutes, or until the cookie is lightly brown on the edges. In a large mixing bowl, mix cream cheese with confectioner's sugar. Spread the mixture on cooled cookie dough. Cover with cherry pie filling and whipped cream. Serves 9.

To submit your favorite recipes to be included in the Garden of Friendship Recipe Book, please email them to Barbiel
Background graphics made especially for the Recipes Committee of the Garden of Friendship by Valatine