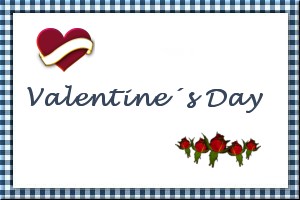 Victorian Gingerbread Valentines
Submitted by: Cookie
2 1/2 cups unsifted flour
2 teaspoons cinnamon
1 1/2 teaspoons ginger
1/2 teaspoon ground cloves
1/4 teaspoon salt
1/2 cup margarine
1/2 cup packed dark brown sugar
1/3 cup dark corn syrup
1 large egg
In large bowl, sift together flour, cinnamon, ginger, cloves and salt. Blend together margarine and brown sugar until smooth. Add corn syrup and egg; beat well. Add dry ingredients, about one-third at a time, mixing until smooth after each addition. Chill dough one hour. Roll out half of dough on lightly floured surface to one-quarter-inch thickness. (Reserve other half for decoratins or for a second batch of cookies). Using hear-shaped cookie cutter, press outcookie shapes or use knife to cut around a pattern. Place hearts on cookie sheet. Decorate as desired. Bake at 350°F for 15 to 20 minutes until golden. Remove and place on wire racks to cool. Store in covered container. Makes about eight 4 1/2 inch cookies.

Cheesecake Pancakes with Strawberry-Lemon Syrup
Submitted by: CajunSue
2 cups buttermilk pancake mix
1 1/4 cup water
1 cup small curd cottage cheese
1 tablespoon sugar
1 teaspoon vanilla extract
Strawberry-Lemon Syrup:
1 cup syrup
1 cup sliced strawberries
1/2 teaspoon lemon rind
Preheat griddle. Combine the pancake mix, water, cottage cheese, sugar, and vanilla extract in a medium bowl. Stir well until blended. Pour batter by 1/4 cups fuls onto hot, well-greased griddle. Flip pancakes when tops are covered with bubbles. Serves 2.
Strawberry-Lemon Syrup: Combine the syrup, strawberries, and lemon rind in a small saucepan; heat through, stirring occasionaly.

Chocolate Dipped Strawberries
Submitted by: CajunSue

2 dozen long-stem strawberries
8 ounces chocolate (white, dark, bittersweet or semisweet), chopped
Wash and dry strawberries. Melt the chocolate in the top of a double boiler. (Water should be about 1-inch away from the top of the double boiler and hot, but not boiling). Heat, stirring constantly, until the chocolate is just barely melted. Or melt the chocolate in a glass bowl over medium or high power in a microwave, stopping to stir every 30 seconds, until the chocolate is smooth, about 2-3 minutes. Hold the strawberries by their stems, dip into the chocolate and let excess chocolate run off. Place on aluminum foil and enjoy.
Note: These can be refrigerated for a day, but they won't last that long.

To submit your favorite recipes to be included in the Garden of Friendship Recipe Book, please email them to Barbiel
Background graphics made especially for the Recipes Committee of the Garden of Friendship by Valatine