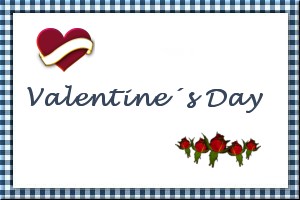 Coeurs à La Creme
Submitted by: Barbiel
8 oz cottage cheese
25 g caster sugar
300 ml double cream
1 teaspoon lemon juice
2 egg whites, stiffly whisked
150 ml single cream
fresh raspberries or strawberries to serve
Press the cottage cheese through a nylon sieve into a bowl. Add sugar and mix well. Whip the cream until stiff then add the lemon juice. Mix into the cheese and sugar mixture. Fold stiffly whisked egg whites into cheese mixture. Spoon mixture into heart-shaped moulds. Chill well for at least 2 hours before serving with cream and fruit. Serves 4-6.

White Chocolate Baked Bananas
Submitted by: Barbiel
4 small bananas
juice of 1/2 lemon
125 g white chocolate cut into small chunks
4 tablespoons clear honey
pinch of ground cinnamon
Preheat the oven to 400ºF (200ºC). Peel the bananas and make a shallow cut lengthwise. Place each banana on a 30cm (12 inch) square of buttered foil. Sprinkle with the lemon juice, scatter over the chocolate, drizzle with honey and dust with cinnamon. Loosely wrap the buttered foil around each bananas, bake for 10 minutes and serve immediately. Serves 4.

Frozen Brandy Cream
Submitted by: Barbiel
4 egg yolks
150 g caster sugar
6 tablespoons Brandy
150 ml double cream
coffee dragées to decorate
Place the egg yolks, caster sugar and Brandy in a deep medium-sized heatproof bowl. Using a wooden spoon stir well. Place the bowl over a pan of simmering water, the bowl base should not touch the water. Stir the mixture all the time for about 15 minutes until it thickens slightly and will just coat the back of the spoon. do not overheat or the eggs may curdle. Take off heat and cool for 30 minutes. Lightly whip the cream and stir half into the cold brandy mixture. Pour into 4 small soufflé, ramekin dishes or heart-shaped moulds. Freeze for at least 5 hours until firm. To serve decorate each with a whirl of the remaining whipped cream, then top with a coffee dragée. Makes 4 servings.

To submit your favorite recipes to be included in the Garden of Friendship Recipe Book, please email them to Barbiel
Background graphics made especially for the Recipes Committee of the Garden of Friendship by Valatine