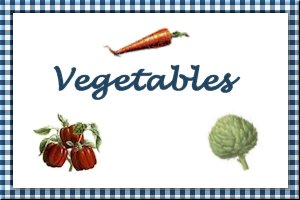 Jerusalem Artichoke Saute'
Submitted by: LadyX
1 tablespoon vegetable oil
2 green onions,sliced
1 small sweet red pepper, cored,seeded and diced
1 tablespoon chopped fresh mint
1 package Jerusalem artichokes, pared and cut into 1/4 inch matchstick pieces
1/2 teaspoon salt
1 tablespoon lemon juice
Heat oil in large skillet over medium-high heat. Add green onion and red pepper, saute 3 mintues or until slightly softened. Add Jerusalem artichokes, mint and salt. Cook 3 mintues, stirring constantly. Stir in lemon juice.

Asparagus With Mustard Dressing
Submitted by: LadyX
2 pounds fresh asparagus, trimmed and peeled
3/4 teaspoon salt
1/4 cup olive oil
2 tablespoons white wine vinegar
2 teaspoons Dijon-style mustard
1 clove garlic,finely chopped
1/4 teaspoon sugar
Pinch pepper
Fill large skillet with enough water to cover aspargus. Add 1/2 teaspoon salt. Bring to boiling. Add aspargus. Return to boiling. Lower heat; simmer 3 to 5 minutes or until crisp-tender and knife tip can be inserted easily into thick end. Drain asparagus. Rinse with cold water; drain. Arrange on platter. Combine olive oil, vinegar, mustard, garlic, sugar, remaining 1/4 teaspoon salt and pepper in bowl. Pour over asparagus.

Scalloped Eggplant
Submitted by: Cheri
1 large eggplant, peeled and diced
1 small onion; minced
1 1/2 cup crushed saltine crackers
2 teaspoons baking powder
2 tablespoons butter or margarine, melted
2 eggs
evaporated milk to moisten
salt and pepper
Grated cheese

In saucepan, cook eggplant in enough boiling water to cover, until tneder, about 7-9 minutes; drain well. Mix eggplant with remaining ingredients except grated cheese. Pour into greased crock pot. Sprinkle with grated cheese. Cover and cook on low heating for 4-8 hours or on high for 2 hours or in the over, bake at 275-300 degrees for 2 hours.

To submit your favorite recipes to be included in the Garden of Friendship Recipe Book, please email them to Barbiel
Background graphics made especially for the Recipes Committee of the Garden of Friendship by Valatine