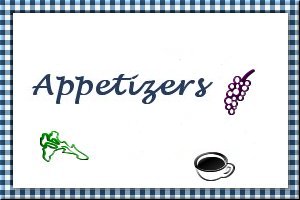 Hot Artichoke Dip
Submitted by: Cathie
2 cans artichoke hearts
1 cup mayonnaise
1 cup shredded Parmesan cheese
1 1/2 to 2 cups shredded mozzarella cheese
2 teaspoons garlic powder

Mix ingredients together and bake in a 350°F oven for 25 minutes. You may sprinkle with paprika for color. Serve with bread sticks, Melba toasts or any other cracker with mild flavor.

Artichoke Spread
Submitted by: Cathie
1-8 1/2 ounce can artichoke hearts, drained
1 cup grated cheddar cheese
3 tablespoons mayonnaise
3 tablespoons lemon juice
Paprika
Break up drained artichoke hearts. Mix cheese, mayonnaise and lemon juice thoroughly. Mix in the artichoke pieces. Place mixture in casserole dish and sprinkle with paprika. Bake at 350°F until heated through. Serve with crackers.

Black Bean Dip
Submitted by: Lady X
1 can black beans, undrained
1 teaspoon chili powder
1/4 teaspoon salt
1/4 teaspoon ground pepper
1/4 teaspoon ground cumin
1-2 drops Tabasco sauce
1/2 medium onion, chopped
2 garlic cloves, minced
1 can diced green chili peppers

Drain the beans and reserve 2 tablespoons of the liquid. Place the beans and liquid in a blender container. Add the chili powder, salt, pepper, cumin and Tabasco sauce. Blend until smooth. Combine the onion and garlic in a large skillet. Cover and cook over low heat until onion is soft. Uncover and cook stirring often until slightly browned. Add the chili peppers and cook for 3 mintues. Add the bean puree and mix well. Serve hot or cold.

To submit your favorite recipes to be included in the Garden of Friendship Recipe Book, please email them to Barbiel
Background graphics made especially for the Recipes Committee of the Garden of Friendship by Valatine