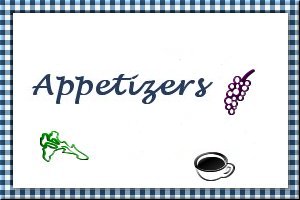 Baked Onion Rings
Submitted by: CajunSue
1/4 cup all-purpose flour
1/4 teaspoon garlic powder
1/4 teaspoon dry mustard
1/4 teaspoon table salt
2 large onions, spanish, sliced into 1/4-inch-thick rounds
1/2 cup buttermilk
1 cup seasoned bread crumbs
cooking spray, olive oil flavored, or enough to coat onions
Preheat oven to 400°F (the oven must be hot for best results). Coat a large baking sheet with olive oil cooking spray. In a large bowl, combine flour, garlic powder, mustard powder and salt. Add onions and toss to coat. Pour buttermilk into a large bowl, add onions and toss to coat. Place bread crumbs in a separate large bowl, add onions and toss to coat. Transfer onions to prepared baking sheet and spray with olive oil cooking spray. Bake until golden brown, 35 minutes. Serve hot. Serves 4.

Ham Rolls
Submitted by: AngelBreath
1 pound thin sliced, rectangular shaped luncheon ham
8 oz. cream cheese, softened
green onion tops
jarred roasted red peppers
Pat ham slices dry with paper towel, spread with thin layer of cream cheese. Place onion top and/or pepper inside and roll up. Cut into 6 small rolls and arrange with toothpicks for serving. Serves 6.

Caramelized Onion and Apple Focaccia
Submitted by: CajunSue
1 package (1/4 oz) active dry yeast
1 teaspoon sugar
1 1/2 cups warm water
2 1/2cups all-purpose flour
1 cup whole wheat flour
1/2 cup Parmesan cheese
2 1/2 teaspoon salt
1/2 teaspoon cayenne
4 tablespoons extra virgin Olive oil
3 pounds Spanish onions, cut in eighths and thickly sliced
1 pound apples, quartered, cored, and thinly sliced
In a large bowl, sprinkle yeast and sugar over 1/2 cup of warm water. Let stand 5 minutes or until foamy. Stir in all-purpose flour, whole wheat flour, 6 tablespoons of Parmesan, 1 1/2 teaspoon salt, and cayenne pepper until blended. Stir in 3 tablespoons of Olive oil and remaining 1 cup warm water until well combined. Transfer to a lightly floured work surface and knead until smooth and elastic. Transfer to a lightly oiled large bowl, turning the dough to coat. Cover and let stand 1 hour in a warm, draft-free spot until doubled. Meanwhile, in a large non-stick Dutch oven or flameproof casserole, heat remaining 1 tablespoon oil over low heat. Add onions and remaining 1 teaspoon of salt and cook, stirring frequently, for 1 hour or until onions are very soft and golden brown. Set aside to cool to room temperature. Punch dough down, transfer to a lightly oiled jelly-roll pan or large cookie sheet and pat dough out to a 15' by 11'rectangle. Cover and let stand 45 minutes or until puffed and well risen. Preheat oven to 425°F. Sprinkle apples, caramelized onions, and remaining 2 tablespoons of parmesan over the dough. Cover and let rise for 30 minutes. Uncover and bake on the lowest level of the oven for 25 minutes until crust is golden brown and crisp. Cut into 20 pieces.

To submit your favorite recipes to be included in the Garden of Friendship Recipe Book, please email them to Barbiel
Background graphics made especially for the Recipes Committee of the Garden of Friendship by Valatine