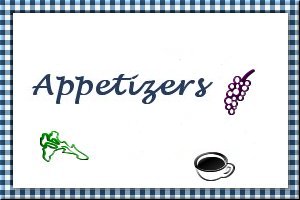 Honey Glazed Chicken Wings
Submitted by: AngelBreath
8 to 12 chicken wings
1/4 cup Soy sauce
1/4 cup water
1 tablespoon honey
2 cloves garlic, crushed
1 tablespoon chopped fresh ginger
In a large baking dish, mix the soy sauce, water, honey garlic, and ginger. Toss in the chicken wings and turn to coat. Let the wings marinate in the mixture for at least 15 minutes. Broil the wings for 10 minutes. Turn the chicken wings over. Cook for another 10 minutes, then serve. Makes 6 servings.

Hash Brown Casserole
Submitted by: LisaW
1/2 cup melted margarine
1 teaspoon salt
1/2 teaspoon black pepper
1/4 cup minced onion
1 can condensed cream of chicken soup
8 oz. Colby cheese, grated
2 lb bag frozen shredded hash browns
Spray 9" X 13" baking pan with non-stick cooking spray. Combine soup, margarine, salt, pepper, onion and cheese. Gently mix in the potatoes and pour into prepared pan. Bake in a 350°F oven for 35-40 minutes. Serves 8.

Shrimp Puffs
Submitted by: AngelBreath
1/2 cup water
2 eggs, room temperature
1/4 cup margarine
1/2 cup unsifted flour
Heat water and butter until melted and boiling. Stir in flour and mix. Add one egg at a time, mix until blended. Drop by teaspoonful on greased cookie sheet for 25 minutes at 375°F. Serve with Shrimp Filling. Yield: 4 servings.
Shrimp Filling
8 ounces cream cheese
10 oz. shrimp
1/4 cup salad dressing
1/4 teaspoon chili powder
green onion
salt and pepper to taste
Mix together and blend well. Spread on half of puff. Top with other half.

To submit your favorite recipes to be included in the Garden of Friendship Recipe Book, please email them to Barbiel
Background graphics made especially for the Recipes Committee of the Garden of Friendship by Valatine