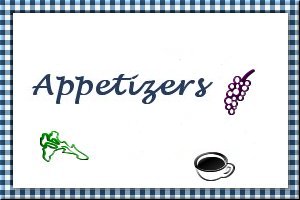 Stuffed Mushrooms
Submitted by: AngelBreath
16 medium-large mushrooms
2 teaspoons dried onion
1 tablespoon sour cream
dash of garlic salt
Wash mushrooms and break off stems. Dice stems very fine. Sprinkle with garlic salt. Add onion and mix. Add enough sour cream to make mixture hold together. Fill mushroom caps with mixture, forming a small mound on top. Place filled mushrooms on a foil lined cookie sheet, making sure that they don't touch. Bake at 425°F for 25-35 minutes. Mushrooms are done when liquid that has formed underneath the mushrooms has disappeared. Yield: 4 servings.
Note: This recipe can be multiplied without failure.

Male-Bonding Buffalo Wings
Submitted by: AngelBreath
12 chicken wings (about 2 pounds)
2 tablespoons margarine or butter, melted
2-3 tablespoons bottled hot pepper sauce
1 teaspoon paprika
1/2 cup dairy sour cream
1/2 cup mayonnaise or salad dressing
1/2 cup crumbled blue cheese
1 clove garlic, minced
1 tablespoon white wine vinegar or white vinegar
crumbled blue cheese (optional)
celery sticks
salt and pepper to taste
Preheat broiler. Cut off and discard tips of chicken wings. Cut wings at joints to form 24 pieces. Place chicken pieces in a shallow nonmetal pan. For sauce, in a small mixing bowl stir together melted margarine or butter, hot pepper sauce, and paprika. Pour mixture over chicken wings, stirring to coat. Cover chicken and let stand at room temperature for 30 minutes. Drain chicken, reserving sauce. Place chicken pieces on the unheated rack of a broiler pan. Sprinkle chicken with salt and pepper, if desired. Brush with some of the reserved sauce. Broil chicken 4 to 5 inches from the heat about 10 minutes or until light brown. Turn the chicken pieces; brush again with the reserved sauce. Broil for 10 to 15 minutes more or until the chicken is tender and cooked through. Meanwhile, in a blender container or food processor bowl combine sour cream, mayonnaise or salad dressing, the 1/2 cup crumbled blue cheese, garlic, and vinegar. Cover and blend or process until smooth. If desired, top dip with additional crumbled blue cheese before serving. Serve with wings and celery sticks and dip. Yield: 12 servings.
Make-Ahead Tip: Store dip, covered, in the refrigerator up to 2 weeks.

Oven Fried Vegetables
Submitted by: AngelBreath
nonstick spray coating
1/4 cup fine dry bread crumbs
1 tablespoon grated Parmesan cheese
1/8 teaspoon paprika
2 cups 1/4-inch-thick zucchini slices, onion rings or cauliflower flowerets
2 tablespoons reduced-calorie Italian salad dressing
Spray a cold cookie sheet with nonstick spray coating. Set aside. In a 9-inch pie plate stir together bread crumbs, Parmesan cheese, and paprika until well mixed. In a medium mixing bowl place zucchini, onion rings, or cauliflower. Drizzle vegetables with salad dressing; toss until coated. Then, roll vegetables in crumb mixture until coated. Place the coated vegetables in a single layer on the prepared cookie sheet. Bake vegetables in a 450°F oven for 9 to 11 minutes or until golden. Yield: 4 (1/2-cup) servings.

To submit your favorite recipes to be included in the Garden of Friendship Recipe Book, please email them to Barbiel
Background graphics made especially for the Recipes Committee of the Garden of Friendship by Valatine