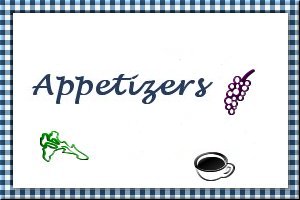 Cheddar Biscuits
Submitted by: LisaW
2 cups Bisquick® baking mix
2/3 cup low fat milk
1/2 cup shredded low fat Cheddar cheese
1/4 cup butter or margarine, melted
1/4 teaspoon garlic powder
Combine Bisquick®, milk, and cheddar and beat with a wooden spoon for about 30 seconds. Spoon on to greased cookie sheet. Smooth tops down with spoon. Bake in 450°F oven for 8-10 minutes. Combine butter and garlic powder and pour over hot biscuits. Serves 4-6.

Bruschetta
Submitted by: LisaW
1 medium red bell pepper, seeded, minced
1 medium green bell pepper, seeded, minced
1 small red onion, grated
1/2 lb small shrimps
1/2 cup grated Parmasen cheese
1 1/2 cups grated Mozzarella cheese
1 1/2 cups grated white Cheddar cheese
1/2 loaf French bread, cut in 1/2" slices
Combine all ingredients, except bread. Spread mixture onto bread slices. Bake in 350°F oven for 6 minutes, or until cheese melts. Serves 4.

Buffalo Chicken Strips
Submitted by: LisaW
2/3 cup non-fat plain yogurt
3 tablespoons reduced-fat mayonnaise
2 oz. blue cheese crumbles
3 tablespoons minced scallions
1/4 teaspoon garlic
1/4 teaspoon paprika
1/4 teaspoon basil
1/4 teaspoon coarsely ground black pepper
1/2 lb boneless chicken breasts, cut in 1/4" strips
1/4 teaspoon salt
1 teaspoon vegetable oil
2 teaspoon butter or margarine
1 tablespoon hot sauce
In a small bowl, whisk together yogurt, mayonnaise, and blue cheese. Stir in the scallions and pepper. Cover and refrigerate until needed. Heat the oil in a large, preferably non-stick skillet over medium high heat. Sprinkle salt on the chicken. In a skillet, brown chicken strips in oil, stirring frequently, 3-4 minutes, or until lightly browned and cooked through. Remove from heat add butter and hot sauce to the pan, swirling the pan until the butter barely melts and the sauce coats the chicken. Serve the chicken along with the blue cheese dip. Serves 4.

To submit your favorite recipes to be included in the Garden of Friendship Recipe Book, please email them to Barbiel
Background graphics made especially for the Recipes Committee of the Garden of Friendship by Valatine