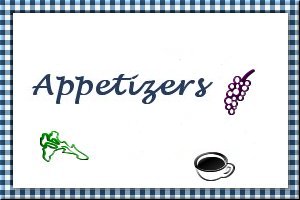 Crab Meat Stuffed Mushrooms
Submitted by: CajunSue
1 pound large mushrooms
1 can crab meat or 6 oz fresh crab meat
1/4 cup mayonnaise
1 teaspoon lemon juice
1 teaspoon grated onion
2 tablespoons minced mushroom stems
1/2 teaspoon salt
1/2 teaspoon black pepper
1/2 pound bacon
Preheat oven to 350°F. Clean mushrooms, remove stems, minced, and reserve. In a large bowl, mix crabmeat, mayonnaise, lemon juice, onion, minced mushroom stems, salt and black pepper. Fill cavities of mushrooms with mixture. Wrap with half a slice of bacon and fasten with a toothpick. Place on cookie sheet and bake for 15 to 20 minutes or until bacon is crisp. Remove and place on absorbent paper. Serve warm. Serves 4-6.

Italian Zucchini Squares
Submitted by: CajunSue
3 cups thinly shredded unpeeled, zucchini
1 cup original Bisquick Mix
1/2 cup grated Parmesan cheese
2 tablespoons chopped parsley
1 teaspoon basil
1/2 teaspoon salt
1/2 teaspoon seasoned salt
1/2 teaspoon oregano
1/8 teaspoon pepper
1 - 2 cloves minced garlic
1/2 cup vegetable oil
4 eggs, slightly beaten
Preheat oven to 350°F. Grease the bottom and sides of a 13 x 9 x 2 baking pan. Stir all ingredients together; spread into pan evenly. Bake for 30-35 minutes or until golden brown all over. Cut into squares. Serve hot. Serves 4-6.

Maple Broiled Scallops
Submitted by: CajunSue
1 pound lean bacon
(cut into 4-inch lengths)
2 pounds sea scallops
1/3 cup maple syrup
Preheat broiler. Wrap bacon slice around each scallop and secure with a toothpick. Place on a wire rack on a baking sheet. Brush with maple syrup. Broil for 3 to 5 minutes about 4 inches from the heat source, turn, brush with more maple syrup and broil for 2 to 3 minutes more, until bacon begins to crisp. Serve at once. Serves: 10 to 12.

To submit your favorite recipes to be included in the Garden of Friendship Recipe Book, please email them to Barbiel
Background graphics made especially for the Recipes Committee of the Garden of Friendship by Valatine