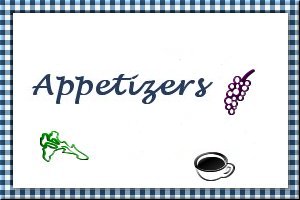 Tuna Spirals
Submitted by: CajunSue
3 oz. cream cheese, at room temperature
6 oz. solid white Tuna in water, drained
12 slices white sandwich bread, crusts removed
2 tablespoons Russian dressing
Flatten bread slices with a rolling pin. Combine remaining ingredients in small bowl; mix well. Spread mixture on bread and roll into cylinders. Wrap in plastic and chill for 2 hours. Cut each into five even slices.

Pickled Eggs
Submitted by: CajunSue
12 hard-cooked eggs, peeled
1 cup white vinegar
1 cup water
1 tablespoon sugar
2 teaspoons pickling spices
1 teaspoon salt
Divide eggs between two 1 quart jars fitted with lids. In a small saucepan, mix together vinegar, water, sugar, pickling spices and salt. Cover and bring to a boil. Reduce heat to low and simmer for 10 minutes. Strain liquid and pour half of hot vinegar mixture into each jar; cover with lid. Refrigerate at least 2 days before using. Makes 12 pickled eggs.
Note: Pickled eggs will keep one month in the refrigerator.

Deviled Eggs
Submitted by: CajunSue
18 eggs
1/3 cup Mayonnaise
2 teaspoons yellow mustard
1 teaspoon finely chopped onion
1/2 teaspoon season salt
1/8 teaspoon black pepper
1/8 teaspoon garlic powder
paprika, parsley or sliced olives for garnish
Place the eggs in a large pot and add enough water to cover them; heat to boiling. When the water boils, remove the pot from the heat. Keep it covered and let sit for 20 minutes. Then drain the hot water and run cold water over the eggs. Let the eggs cool for 5 to 10 minutes. Peel the eggs carefully, then slice in half lengthwise. Remove the egg yolks to a medium-sized bowl. Set aside the whites on a plate. In the medium bowl, add the Mayonnaise, mustard, garlic, salt, onion, and pepper. Mix well. With a spoon, fill the cavity of each egg white half with the yolk mixture; yolk mixture should over-fill the egg (optionally, use a piping bag or a plastic sandwich bag with a hole cut in one corner to fill the eggs). Serve immediately or cover and chill until ready to serve. Sprinkle with a quick dash of paprika, parsley or a sliced olive before serving. Makes 18 servings.

To submit your favorite recipes to be included in the Garden of Friendship Recipe Book, please email them to Barbiel
Background graphics made especially for the Recipes Committee of the Garden of Friendship by Valatine