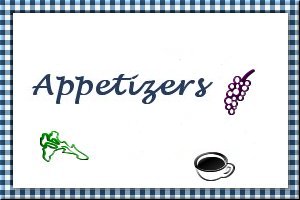 Fresh Cantaloupe in Lime-Yogurt-Cardamom Dressing
Submitted by: CajunSue
1/2 cup plain yogurt
1 tablespoon fresh squeezed lime juice (or to taste)
pinch of ground cardamom seeds
honey to taste
1 cantaloupe, diced into 1/2" pieces
ground fresh pepper to taste
Completely mix yogurt, lime juice, cardamom, and honey. Fold into diced cantaloupe. Keep refrigerated and serve cool. Serves 4-6.

Veggie Pizza
Submitted by: PrayingBear
2 cans refrigerator crescent rolls
1 packages dry Italian salad dressing mix
1/2 cup Mayonnaise
8 oz. cream cheese, softened
Toppings:
chopped green onions (scallions),
broccoli, chopped into small flowerettes
green pepper, chopped into small pieces
shredded carrot
shredded Mozarella cheese
shredded Cheddar cheese
Preheat oven to 375°F. On an ungreased cookie sheet, unroll crescent rolls to flat sheets. Bake for 8-10 minutes, or until light golden brown. Remove from oven, cool on cookie sheets. In a medium bowl, with mixer on medium-high speed, beat together cream cheese, Mayonnaise, and dry salad dressing mix until completely incorporated. When crescent sheets are cool, spread with cream cheese mixture. Top with vegetables and shredded cheese. Chill in the refrigerator until serving time, at least 2 hours. Makes 32 servings.

Spinach Cheese Puffs
Submitted by: PrayingBear
10 ounces frozen chopped spinach
1 paper towel
1 cup milk
1/2 cup butter
1 teaspoon salt
1 cup flour
4 eggs
1/4 pound Swiss cheese, shredded
1/2 cup Parmesan cheese, grated
some pepper to taste (optional)
Preheat oven to 375°F. Thaw and drain frozen chopped spinach; squeeze dry with paper towels. Meanwhile, in a saucepan over medium heat, heat milk, butter, and salt until melted. Remove from the heat. Vigorously stir in flour all at once until the mixture forms a ball and leaves the side of the saucepan. Add eggs to the flour mixture, one at a time, beating well after each addition, until mixture is smooth and satiny. Season with peper, if desired. Stir in shredded Swiss cheese, grated Parmesan cheese, and the drained spinach. Lightly grease two baking sheets. Drop the batter by tablespoonfuls on the cookie sheets 1 and 1/2 inches apart. Bake for 15-20 minutes or until slightly browned. Serve hot.

To submit your favorite recipes to be included in the Garden of Friendship Recipe Book, please email them to Barbiel
Background graphics made especially for the Recipes Committee of the Garden of Friendship by Valatine