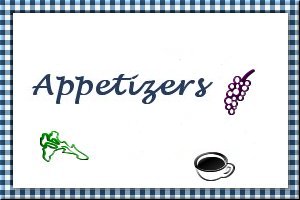 Cheddar and Broccoli Appetizers
Submitted by: Cricket
10 oz frozen chopped broccoli
8 oz whole kernal corn, drained
1/4 cup onion, chopped
1/2 cup walnuts, coarsely chopped
1/2 cup milk
1/4 cup butter, melted
2 eggs
1/2 cup Bisquick
1/4 teaspoon garlic salt
1 cup Cheddar cheese, shredded
Thaw and drain the broccoli. Heat oven to 375°F. Grease a 9x9x2" pan. Mix broccoli, corn, onion and walnuts. Place in pan. Beat remaining ingredients except cheese until smooth, 15 sec. in blender on high, stopping blender frequently to scrape sides if necessary, or 1 minute with electric mixer on high. Pour evenly into pan. Bake until knife inserted in center comes outclean, 23-25 minutes; sprinkle with cheese. Bake until cheese is melted, 2-3minutes longer. Cool 30 minutes. Cut into triangles or squares. Makes 30 appetizers.

Cheese Appetizers
Submitted by: Cricket
3/4 cup butter, softened
9 oz Cheddar cheese, grated
1 1/2 cups flour, sifted
1/2 teaspoon salt
1 teaspoon Tabasco sauce or more to taste
3 cups Rice KrispiesŪ
Cream butter and cheese together until well blended. Add Flour, salt and Tabasco and knead until well blended. Knead in the Rice Krispies. Make tiny balls out of teaspoon amounts of dough. Place on an ungreased cookie sheet and press down with fork until each teaspoon of dough is round and approximately 1/4 inch thick. Bake in pre-heated oven at 400°F for 10 to 12 minutes. Remove to rack to cool. Store in airtight container. Yield: 50 appetizers.

Cheese Olive Balls
Submitted by: Cricket
1 ea jar (5 oz.) bacon cheese spread
4 tablespoons margarine
1/8 teaspoon Tabasco sauce
1 teaspoon Worcestershire sauce
3/4 cup unbleached white flour
1 jar (3 oz.) green olives
1 jar (3 oz.) small olives, pitted, without pime
Preheat oven to 400°F. In a mixing bowl, blend cheese spread and margarine until light and fluffy. Add Tabasco and Worcestershire sauce. Mix well stirring in flour thoroughly. Use about 1-1/2 teaspoons of dough per olive and shape dough around each olive. Place balls on ungreased baking sheet. Bake in 400°F oven for 12-15 minutes or until light brown. Serve hot or at room-temperature. Yields 25 balls, serving 6.

To submit your favorite recipes to be included in the Garden of Friendship Recipe Book, please email them to Barbiel
Background graphics made especially for the Recipes Committee of the Garden of Friendship by Valatine