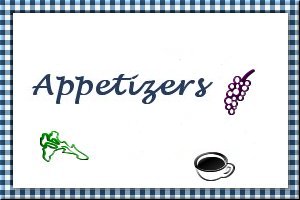 Cheese Onion Morsels
Submitted by: Cricket
1 lb Cheddar cheese (grated)
1/2 cup soft butter
1 egg
1/4 cup water
2 cups all-purpose flour
1 teaspoon salt
2 teaspoons sugar
1/2 teaspoon baking powder
1/2 teaspoon paprika
1/2 cups onions (finely chopped)
1/4 cup parsley (chopped) or flakes
pepper to taste
Beat cheese and butter. Add egg and water. Blend. Combine flour, salt, sugar, baking powder and paprika. Add flour mixture, onions and parsley to the cheese mixture. Season with pepper. Blend. Drop onto cookie sheet. Bake at 350°F for 15 minutes or until golden brown. Makes 8 dozen.
Note: May be frozen and thawed. Reheat at 375°F for 5 minutes.

Fruited Cheese Log
Submitted by: Cricket
1/2 cup dried apricots
1 teaspoon poppy seed (optional)
1 lb Monterey Jack cheese, shredded
1/2 teaspoon seasoned salt
1/3 cup golden raisins
8 oz cream cheese, softened
1/3 cup dates, chopped
1/3 cup dry Sherry
1 x walnuts, chopped
1 x cherries, grapes for garnish
Soak apricots in 1 cup water for 2 hours. Drain and chop. Blend cheeses. Add remaining ingredients, fruits last, mixing thoroughly in between. Turn out onto sheet of foil and shape into 9" log or 2 large balls. Wrap securely and chill until firm. Roll in chopped nuts, cover again in foil and refrigerate 24 hours before serving (may be frozen). Garnish and serve.

Roasted Red Pepper Cheese Toasts
Submitted by: Cricket
4 whole-grain bread slices
1/3 cup Mozzarella cheese, shredded
1 teaspoon Olive oil
1/2 teaspoon Balsamic vinegar
1/4 teaspoon dried basil, crumbled
1/4 teaspoon dried oregano, crumbled
3 1/2 oz roasted red peppers, sliced
1 tablespoon Parmesan cheese, grated
Place bread on small baking sheet. Combine cheese, Olive oil, vinegar, basil and oregano. Spoon onto bread. Top with red pepper; sprinkle with Parmesan. Bake in preheated 500°F oven 5-8 minutes until cheese is melted. Serves 4.

To submit your favorite recipes to be included in the Garden of Friendship Recipe Book, please email them to Barbiel
Background graphics made especially for the Recipes Committee of the Garden of Friendship by Valatine