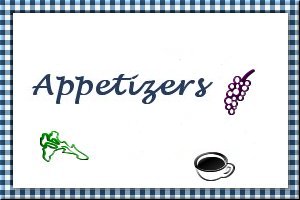 Ham and Cheese Potato Skins
Submitted by: Cricket
1 x basic potato skins recipe
1 teaspoon Dijon or spicy mustard
1/4 lb thinly sliced ham
2 oz roasted red peppers (or 2 oz whole pimentos)
1/2 cup Monterey Jack cheese shreds
1 x chopped parsley (optional)
Preheat oven to 400°F. Follow the recipe for basic crispy potato skins. Brush insides of potato skins with mustard. Drain and slice peppers or pimientos. Top with slices of ham and a few strips of pepper/pimiento. Sprinkle with cheese. Bake about 10 minutes on baking sheet, or until cheese is melted and bubbling. Sprinkle with parsley if you like. Makes about 2 skins per serving. Yield: 12 servings.

Little Feta Cheesecakes
Submitted by: Cricket
1/2 cup breadcrumbs, fine, dry
1/2 cup pecans, ground
1/4 cup butter, melted
8 oz Cream cheese, softened
4 oz Feta cheese, crumbled
1 egg
2 tablespoons milk
1/8 teaspoon Hot sauce
Combine first 3 ingredients in a small bowl; stir well. Press 1 teaspoon pecan mixture into paper-lined miniature (1-3/4-inch) muffin pans. Beat cream cheese at medium speed of an electric mixer until fluffy; add crumbled feta cheese and egg, beating well. Stir in milk and hot sauce. Spoon cheese mixture evenly into prepared miniature muffin pans. Bake at 350°F for 10 to 12 minutes or until cheesecakes are set. Let cool; cover and chill 2 hours. To serve, remove cheesecakes from pans, and remove paper liners from cheesecakes. Spoon Herbed Tomato Sauce evenly over cheesecakes. If desired, garnish with slice ripe olives and fresh parsley springs. Makes 48 cakes.
Herbed Tomato Sauce
1/2 cup tomato sauce
1 tablespoon onion, minced
2 tablespoons tomato paste
1/4 teaspoon basil, dried
1/4 teaspoon oregano, dried
1/8 teaspoon pepper
1 clove garlic, minced
sliced ripe olives (optional)
fresh parsley springs (optional)
Combine all ingredients in a small saucepan, and stir well. Cook over medium heat, stirring occasionally, 5 minutes or until mixture thickens. Let sauce cool. Cover tightly, and chill at least 2 hours. Yield 2/3 cup.

Shrimp-Cheese Roll
Submitted by: Cricket
1 1/2 cups Muenster Cheese (shredded)
1 cup cooked shrimp
1/4 cup green onion (slice thin)
2 ea eggs
1/2 teaspoon salt
1/8 teaspoon pepper
1 package crescent rolls
1 tablespoon butter (melted)
1 ea egg yolk with 1 tablespoon water (optional)
In large bowl, stir together Muenster cheese, shrimp, onion, salt, pepper and eggs; set aside. Unroll crescent roll dough onto lightly floured surface. Pinch together perforations on both sides of dough. Fold in half crosswise and with a lightly floured rolling pin, roll out to 14x9 inch rectangle. Brush with butter. Spread cheese-shrimp mixture in a 2 inch strip along 1 long edge of dough; roll up as a jelly roll. Firmly pinch seam and ends together, then moisten slightly with water and smooth lightly with dull edge of knife to seal dough well. Lift roll onto ungreased cookie sheet. Brush with egg-yolk mixture. Bake in preheated oven 400°F for 25 minutes or until golden brown. Cool on rack 20 minutes. With sharp knife, cut in 1/2 inch slices. Makes 28 rolls.

To submit your favorite recipes to be included in the Garden of Friendship Recipe Book, please email them to Barbiel
Background graphics made especially for the Recipes Committee of the Garden of Friendship by Valatine