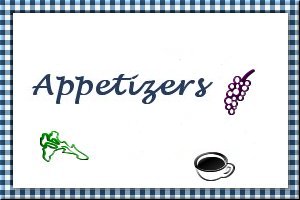 Cheese Chili Bites
Submitted by: Angelsgifts
1 cup all-purpose flour
1/2 cup finely grated Cheddar cheese
1/4 teaspoon salt
1 egg, beaten
1/2 teaspoon dry mustard
1 tablespoon cold water
1/2 teaspoon hot chili powder
1 tablespoon sesame seeds
1 large pinch cayenne pepper
1 tablespoon poppy seeds
1/4 cup butter or margarine
Preheat oven to 400°F (205°C.). Sift flour, salt and spices into a bowl. Cut in butter finely until mixture resembles breadcrumbs. Add grated cheese and mix well. Mix egg with cold water. Add 2 tablespoons of egg mixture to cheese mixture and mix to form a fairly stiff dough. Knead gently on a lightly floured surface. Roll out dough to a 12x6" rectangle. Trim edges. Cut in half lengthwise and transfer to a baking sheet. Brush each half with remaining egg mixture. Sprinkle one half with sesame seeds and the other half with poppy seeds. Cut each half in 10 triangles and separate slightly to prevent sticking. Bake in preheated oven 10-12 minutes or until light golden and cooked through. Cool on a wire rack. Serves: 20.
Note: Store in an airtight container up to 2 weeks.

Cocktail Crunch
Submitted by: Angelsgifts
3 oz rye flakes
1 teaspoon (heaped) coriander seeds
3 oz jumbo oat flakes
1 teaspoon (heaped) cumin seeds
3 oz Barley flakes
1 tablespoon Garam marsala
3 oz wheat flakes
1 teaspoon tumeric
3 oz peanut kernals, not salted or dryroast
3 tablespoons sesame oil
3 tablespoons peanut oil
2 oz flaked almonds
1 tablespoon Soy sauce
2 oz sunflower seeds
5 tablespoons water

Crush the coriander and cumin lightly. Mix them with the nuts and seeds on two baking trays. Set the oven to 375°F (190°C), gas mark 5 and put the baking trays into the oven while it heats up. Meanwhile measure the flaked grains and mix them together in a large bowl. Put into a cup the Garam marsala, tumeric, a good grinding of black pepper, a scrunch of sea salt, the soy, both sorts of oil and the water. When the oven has reached the required temperature, stir the nut and seed mixture with the flaked grains. Beat the spicy oil-and-water mixture with a fork to emulsify it, pour it on to the dry ingredients and stir for 2 minutes. Spread the mixture out on to the baking trays and bake for 40 minutes until golden. Swap the positions of the trays in the oven at least once during this time and stir the mixture occasionally to encourage even cooking. Let the mixture become cold and crunchy before storing in an airtight jar. Makes enough to fill one jar.
Note: It keeps well for about a month.

Crab and Cream Cheese Hors D'Oeuvre
Submitted by: Angelsgifts
8 oz package Cream cheese, softened
1/2 teaspoon horseradish
8 oz backfin crabmeat
2 oz slivered almonds
1 tablespoon milk
2 tablespoons chopped onion
salt to taste
pepper to taste
Blend together all ingredients except almonds and put in shallow baking dish (salt/pepper to taste). Sprinkle almonds over top and bake at 350°F until slightly browned on top. Serve hot on crackers. Makes 2 cups.

To submit your favorite recipes to be included in the Garden of Friendship Recipe Book, please email them to Barbiel
Background graphics made especially for the Recipes Committee of the Garden of Friendship by Valatine