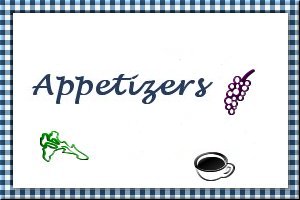 Cream Cheese and Crab Wontons
Submitted by: Angelsgifts
1 package of Wonton wrappers
1 egg, beaten
1 package of Cream cheese (softened to room temperature)
1 can of Crab Meat Drained (Lump-Style) or 1 pound of crab legs
2 tablespoons flour (or 1 piece of toast)
oil for frying
sauce for dipping
(any your preference)
In a large bowl, mix the cream cheese, the flour (or toast), and the crab meat until well blended. Place one tablespoon of the crab and the cream cheese mixture in the middle of the wonton wrapper. Brush the egg around the edges of the wonton. Bring top corner over and press down the edges to seal. This will make a triangle shape. Bring both corners of the wonton to the top and pinch together to make final seal. Heat oil in deep frying pan. Oil is ready for frying when you place a wonton in it, and the outside wrapper starts to bubble. Fry wontons until golden brown, approximately 2 1/2 minutes. Serves: 20.
Note: When using crab legs, please ignore the cluster.

Devilled Crab in Cucumber Cups
Submitted by: Angelsgifts
3 cups cooked crab meat, flaked
2 hard boiled eggs, chopped
1/4 cup lemon grass, sliced fine
1/4 cup onion, chopped
2 tablespoons Nam-prik Pao
2 tablespoons Fish sauce
3 tablespoons lime juice
1 tablespoon sugar
2 tablespoons scallions, chopped
2 tablespoons corianders leaves, chopped
3 cucumbers
Cucumber Cup recipe (see below)
Mix all ingredients together and fill cucumber cups. Serves: 6.
Cucumber Cups: Peel and cut cucumber crosswise approximately 3 inches thick, and scoop out seeds to make cups. Mix 1/2 cup white vinegar with 1/2 cup water, 1 tablespoon salt and 1/4 cup sugar. Add the cucumber cups and marinate for about 1/2 hour, then drain off and discard liquid.

Filo Mushroom Pies
Submitted by: Angelsgifts
1 package Filo pastry sheets
2 teaspoons coriander seeds, toasted and lightly crushed
3/4 lb flat mushrooms (without stalks)
1/2 lb onions
salt to taster
pepper to taste
butter or oil
7 oz Feta cheese
2 small eggs
2 teaspoons whole cumin
Chop the onion finely and soften it in a little butter or oil, then fry hard until frazzled. Remove and reserve. Dice the mushrooms and fry them in the fat remaining in the pan; stir and turn them as necessary to drive off most of their moisture and to concentrate flavour. Mix the two vegetables together and season with plenty of salt and pepper. Stir in the cumin, coriander and grated cheese. When cool bind with the beaten eggs. Unwrap the pastry one sheet at a time. Keep the rest covered with a damp cloth to prevent drying out. Cut each sheet into strips about 3 x 10 inches long and brush on one side only with melted butter. Put one rounded metal teaspoonful of the mixture near the short edge of the buttery side of the first pastry strip - about 1 inch from the bottom and slightly to the left-hand side. Fold the bottom right-hand corner of the pastry diagonally over the filling to make a triangle. Continue folding the pastry at right angles up the whole lenghth of the strip so you end up with a neat little triangular parcel. Make more little pies in the same way until all the filling is used up. To cook, simply brush the pies all over with melted butter or oil, arrange them side by side on baking trays and bake at 350-375°F (180-190°C) gas mark 4/5 for about 20 minutes, until the pastry is golden and crisp. It is best to turn the pies over after the first 10 minutes and brush with more butter or oil. Yield 42, serving 20.
Note: For even crisper results the pies can be deep-fried.

To submit your favorite recipes to be included in the Garden of Friendship Recipe Book, please email them to Barbiel
Background graphics made especially for the Recipes Committee of the Garden of Friendship by Valatine