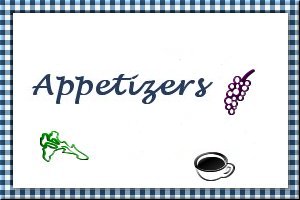 Fried Shrimp Balls
Submitted by: Angelsgifts
1 lb fresh shrimp
1/2 cup bamboo shoots chopped fine
1/4 teaspoon fresh chopped ginger
1 teaspoon salt
1 tablespoon White wine
2 teaspoons corn starch
1 ea egg white
deep frying oil (enough to fry)
Prepare shrimp by cleaning thoroughly and removing shell, legs and devein. Mince the shrimp. Combine all of the ingredients except oil. Use a teaspoon of the mixture and shape into balls. Heat oil in a deep pot or skillet and deep fry shrimp balls until golden brown. Remove from oil and place onto paper towells to drain excess oil. Serve hot. Serves 4.

Hot and Spicy Chicken Wings
Submitted by: Angelsgifts
1 can tomato sauce (8 oz)
1 tablespoon onion powder
2 tablespoons red pepper flakes
2 tablespoons Jalapeno peppers, chopped
2 tablespoons Hot sauce
1 lb chicken wings
1 tablespoon garlic powder
blue cheese dressing (optional)
Combine tomato sauce, red pepper flakes, hot sauce, garlic powder, onion powder and Jalapeno peppers in a medium size bowl. Spray a baking sheet with no-stick cooking spray. Place chicken wings on baking dish. Brush sauce over wings. Bake at 350°F for 20 mins. Turn over and brush with sauce and bake for another 10 minutes. Serve with blue cheese dressing and celery if desired. Serves 4.

Mexican Shrimp Cocktail
Submitted by: Angelsgifts
1 cup water
1/3 cup lime juice
1 ea clove garlic, finely chopped
2 teaspoons salt
dash of pepper
24 ea shrimp, raw, peeled and deveined
1 ea avocado, peeled and chopped
2 ea Jalapeno chiles, seeded and finely chopped
1/4 cup tomato, chopped
2 tablespoons onion, chopped
2 tablespoons carrot, finely chopped
2 tablespoons cilantro, fresh, snipped
2 tablespoons vegetable or Olive oil
1 1/2 cups lettuce, finely shredded
1 lemon or lime wedges
Heat water, lime juice, garlic, salt and pepper to boiling in a 4-quart Dutch oven. Reduce heat. Simmer uncovered until reduced to 2/3 cup. Add shrimp. Cover and simmer 3 minutes (do not overcook). Immediately remove shrimp from liquid with slotted spoon. Place in bowl of iced water. Simmer liquid until reduced to 2 tablespoons. Cool. Mix reduced liquid, shrimp and remaing ingredients except shredded lettuce and lemon wedges in a glass or plastic bowl. Cover and refrigerate at least 1 hour. Just before serving place 1/4 cup lettuce on each of 6 serving dishes. Divide shrimp mixture among dishes. Garnish with lemon wedges. Serves 6.

To submit your favorite recipes to be included in the Garden of Friendship Recipe Book, please email them to Barbiel
Background graphics made especially for the Recipes Committee of the Garden of Friendship by Valatine