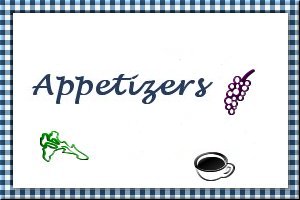 Mushroom Cups
Submitted by: Angelsgifts
1 cup chopped onions
2 cups chopped mushrooms
3 tablespoons margarine
1/2 cup chopped parsley
2 ea egg yolks
3/4 cup grated Mozzarella cheese
1/2 cup grated Parmasean cheese
1 teaspoon salt
8 ea sliced white bread
1/2 cup melted butter
Saute onions and mushrooms in margarine. Remove from heat. Add parsley, eggs, cheeses and seasoning. Combine well. Trim crusts from bread and cut into 4 equal squares. Roll pieces flat with a rolling pin. Dip bread in melted butter and arrange in miniture muffin tins. Fill each with mushroom-cheese mixture. Bake 350°F for 20-25 minutes. Yield 32, serving 20.

Piney Woods Hush Puppies
Submitted by: Angelsgifts
2 1/2 cups yellow corn meal
1 tablespoon baking powder
1 teaspoon soda
1 ea egg, beaten
1 teaspoon salt
2 cups Buttermilk
2 tablespoons granulated sugar
1 1/2 cups cooking oil
2 tablespoons all-purpose flour
Mix all dry ingredients; beat milk and egg together and combine with dry ingredients; batter should hold its shape when picked up in spoon. If it is too soft, add more cornmeal. Drop by molded tablespoon into 350°F fat and cook about 1 1/2 minutes; turn and cook on second side 1 minute. Allow oil to heat a few seconds after removing a batch. Serves: 20.
Note: Delicious freshly cooked and hot; however, leftover hush puppies freeze well. When ready to serve frozen hush puppies, place on oven rack in preheated 250"F until very hot and crisp. Makes about 48 hush puppies 2" round.
Hints on frying: Using a small diameter heavy saucepan allows using a minimum oil; a 5 or 6 inch pan with oil 1 1/2 inches deep and heated to 350"F will cook three hush puppies in about 2 1/2 minutes. When batter consistency is correct and oil is at 350"F, hush puppies will become firm, round shapes almost as soon as they enter the hot oil. If they are cooked in oil that is too hot, they will not cook in the center.
Serving suggestions: Especially good served with fried catfish, trout, shrimp, oysters, chicken or chicken-fried steak.

Savory Appetizer Pork Meatballs
Submitted by: Angelsgifts
1 pound ground pork
1/2 cup soft bread crumbs
1 large white egg, beaten
2 tablespoons minced onion
1 tablespoon minced green pepper
1 clove garlic, minced
1 teaspoon salt
1/8 teaspoon pepper
1 tablespoon vegetable oil
1 8-ounce can tomato sauce
1/4 cup apple jelly
1/4 teaspoon curry powder
In a mixing bowl combine ground pork, bread crumbs, egg, onion, green pepper, garlic, salt and pepper. Mix well. Shape pork mixture into about 30 one-inch meatballs. In a large skillet, brown meatballs in hot oil. Drain well. Serves 4.
Sauce: In a small saucepan combine tomato sauce, apple jelly and curry powder; simmer until jelly is melted, stirring occasionally. Pour the sauce over the meatballs. Cover and simmer for 15-20 minutes, stirring often.

To submit your favorite recipes to be included in the Garden of Friendship Recipe Book, please email them to Barbiel
Background graphics made especially for the Recipes Committee of the Garden of Friendship by Valatine