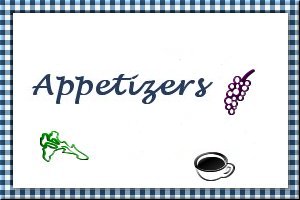 Crab and Cream Cheese
Submitted by: Angelsgifts
1 package of imitation crab meat (shredded)
1 package cream cheese (softened)
2-3 tablespoons grated onion
1 teaspoon Tony Chachere's Cajun seasoning mix
Shredd crab meat into smaller stripe size pieces until there is no chunks left. Mix this in with cream cheese. Add seasonings, mix well. Cover and refrigerate over night. This allows the seasonings to blend in. Serve with club soup crackers. Serves 4.

Minted Eggplants
Submitted by: Angelsgifts
2 large eggplants
1 garlic clove, crushed
1 tablespoon salt
black pepper
1 tablespoon Olive oil
5 oz Yogurt
juice of one lemon
4 tablespoons freshly chopped mint
4 tablespoons freshly chopped mint
1/2 teaspoon ground cumin
1 teaspoon ground cumin
Cut eggplants into 1 cm thick slices and layer them in a colander with the salt. Let them drain for 30 minutes. Wash them under cold water and dry them on paper towels. Beat together oil, lemon juice, mint, cumin, garlic and pepper. Beat together, separately, the yogurt, mint and cumin. Heat the grill to high. Lay the eggplant slices on the hot rack and brush them with half the lemon mixture. Grill them until they begin to brown. This will take about 2 minutes. Turn over, brush with the rest of the lemon mixture and brown. Serve grilled eggplants hot with the sauce separately as an appetizer. Or place the eggplant on a large platter and spoon the sauce over the top and serve as a vegetable accompaniment for middle eastern dishes. Serves 4.

Easy Crabmeat Dip
Submitted by: IrishCream
1 (8 oz) package cream cheese, softened
1 can crabmeat
chili sauce or shrimp sauce
Spread cream cheese thinly on a serving tray. Drain crabmeat thoroughly. Spread over cream cheese. Cover with a thin layer of chili sauce or shrimpo sauce. Refrigerate. Serve with crackers.
Note: May be made ahead of time, but drain off accumulated juice before serving.

To submit your favorite recipes to be included in the Garden of Friendship Recipe Book, please email them to Barbiel
Background graphics made especially for the Recipes Committee of the Garden of Friendship by Valatine