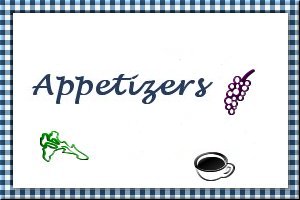 Argentina Empanadas
Submitted by: Vadi
4 cups unbleached flour
4 tablespoons vegetable shortening
1/2 tablespoon salt
2 onions
1 green bell pepper
1/2 kg tenderloin
1/3 cup seedless raisins
1/4 cup green olives, finely chopped
1 bunch green onions, minced
1 hard-boiled egg, minced
paprika powder to taste
salt to taste
crushed red pepper to taste
Finely dice the beef. In a medium-size frying pan, melt 2 tablespoons vegetable shortening. Dice the onion, bell pepper and add to the pan. Sauté over medium heat until the onion starts to turn golden. Add the diced meat. Season to taste with salt, red pepper and paprika. Sauté, stirring occasionally, until the beef turns brown on all sides. Remove the frying pan from the heat. Mix in the egg, the raisins, the olives and the green onions. Allow to cool until it drops to room temperature. Serve.

Roasted Asparagus Wrapped in Prosciutto
Submitted by: Merribuck
1 pound asparagus (about 19 stalks), trimmed
1 tablespoon Olive oil
salt and freshly ground black pepper
6 to 8 paper-thin slices Prosciutto, halved lengthwise
Preheat the oven to 400°F. Snap the dry stem ends off of each asparagus and place on a heavy baking sheet. Drizzle with Olive oil, sprinkle with salt and pepper, and toss. Roast until the asparagus is tender, about 15 minutes. Cool completely. Wrap each asparagus with 1 piece (about 1/2 a slice) of prosciutto, exposing tips. Arrange on a platter and serve at room temperature.

Cheese Sticks
Submitted by: Mickey Mom
1 cup flour + 1/2 teaspoon salt
1/8 teaspoon ground cayenne pepper
1 1/2 teaspoons baking powder
4 tablespoons butter or margarine
1/2 cup shredded Cheddar cheese
3 tablespoons Sour cream
Combine dry ingredients. Cut in butter and cheese with pastry blender. Stir in Sour cream. Shape into a ball and chill 2 hours. On a lightly floured surface, roll out dough 1/8-inch thick. Cut into strips 1/4-inch wide and 3 inches long. Bake at 425°F for 8 minutes.

To submit your favorite recipes to be included in the Garden of Friendship Recipe Book, please email them to Barbiel
Background graphics made especially for the Recipes Committee of the Garden of Friendship by Valatine