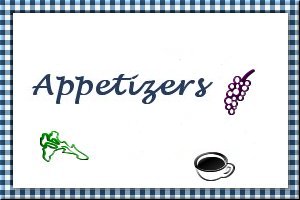 Chicken Veronique
Submitted by: LisaW
4 chicken breast halves, skinless, boneless
2 tablespoons butter or margarine
4 oz mushrooms, sliced, drained
1/2 cup green onions, chopped
3 tablespoons White wine (or lemon juice)
1/2 cup whipping cream
1 cup seedless grapes
1/2 teaspoon salt
1/8 teaspoon white pepper
Heat 1 tablespoon butter in 10" skillet. Add mushrooms and saute over medium-high heat for 2 minutes. Turn mushrooms onto heated platter. Add remaining butter to skillet. Place chicken into pan. Saute over medium heat about 10 minutes, until chicken is cooked through, turning 2-3 times. Add onions and wine after 5 minutes of cooking. Arrange cooked chicken over mushrooms Drain mushroom juice into skillet. Heat pan juices to boiling. Add cream. Boil 2-3 minutes. Add grapes to pan. Heat through. Stir in salt and pepper. Pour sauce and grapes over chicken. Serve immediately. Yield: 4 servings.

Cocktail Sausage Wraps
Submitted by: AngelBreath
1 can refrigerated crescent dinner rolls
1/2 l. fully cooked smoked sausage cocktail links
grated sharp Cheddar cheese
finely minced onion
Separate the dough into 8 triangles. Cut each triangle into 3 triangles. Press a little cheese and onion onto each triangle. Place the sausages on the short side of the triangle and roll up. Place on an ungreased baking sheet. Bake in a 375°F oven until golden brown, about 15 minutes. Serve warm. Yield: 8 servings.

Bacon-Onion Appetizer
Submitted by: LisaW
1/3 cup butter (margarine), softened
1/2 cup onion, finely chopped
6 slices bacon, cooked and crumbled
2 tablespoons fresh parsley, chopped
2 each 8-oz cans refrigerated crescent rolls
Combine first 4 ingredients. Unroll crescent rolls, and separate into 8 rectangles; firmly press diagonal perforations to seal. Spread butter mixture evenly over dough. Roll up each rectangle, beginning with short side; pinch seam to seal. Cut each into 4 slices. Place pinwheels on ungreased cookie sheets; flatten slightly. Bake at 375°F for 15 minutes or until golden. Yield: 32 appetizers.

To submit your favorite recipes to be included in the Garden of Friendship Recipe Book, please email them to Barbiel
Background graphics made especially for the Recipes Committee of the Garden of Friendship by Valatine