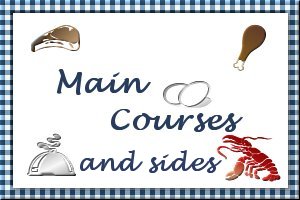 Waterless Pot Roast
Submitted by: Jezebel Jen
3-4 pound pot roast, browned well on all sides
(chuck, brisket, bottom round)
1 large onion, thinly sliced
1 package dehydrated onion soup mix
Optional:
Carrots cut into 3 inch lengths
Small potatoes, peeled and cut in half

If using carrots and potatoes, place then in the bottom of crockpot. Cover with a layer of half the onion slices. Rub one side of the pot roast well with half the onion soup mixture. Place, rubbed side down, on the sliced onions in crockpot. Sprinkle the remaining soup mix over the top of the roast. Cover roast with the remaining onion slices. Cover crockpot. Cook on lowest setting for 8-10 hours. Do not peek. Do not add liquid. Trust me, it will work.

Beef Burgundy
Found in NC Church Cookbook by parishioner Clara Lazaro
4 slices bacon
1 1/2 pounds beef top round
1 can golden mushroom soup
1/4 cup burgundy wine
2 tablespoons chopped parsley
1/8 teaspoon pepper
1 small to medium onion
2 cups mushrooms sliced
Fry bacon till crisp, crumble and set aside. Cut beef into bite size cubes. Bown in bacon grease. Pour off any excess fat. Add next four ingredients. Cook about 1 1/2 hours. Add chopped onion and mushrooms. Cook for 1 hour more till tender. Add bacon. Serve on rice or noodles.

Basic Prime Rib Roast
Submitted by: Cathie
What to look for when buying and preparing a prime rib of beef:
1. Look for the best quality of beef. It should be deep pink (or light red), with enough fat to give it good flavor; and the outside fat should be creamy white.
2. A prime rib roast weighing between 5 1/2 to 7 1/2 pounds will make 6 servings with leftovers.
Roasting Instructions:
Place roast, fat side up, on rack in open roasting pan. Insert meat thermometer so bulb is centered in the thickest part of roast, not touching any bone.
Roast at 325°F as follows:
23 to 36 minutes per pound for rare or 140°F on meat thermometer.
27 to 31 minutes per pound for medium or 160°Fon meat thermometer.
32 to 36 minutes per pound for well-done or 170°Fon meat thermometer.
Always allow time so roast can stand in a warm place 15 to 20 minutes after it is removed from oven. Since a roast continues to cook after removal from oven, it is best to remove it when thermometer registers about 5° below the temperature of doneness desired.
Au Jus gravy:
Remove all fat possible with a baster or a fat separator cup and serve remaining liquid with roast.

To submit your favorite recipes to be included in the Garden of Friendship Recipe Book, please email them to Barbiel
Background graphics made especially for the Recipes Committee of the Garden of Friendship by Valatine