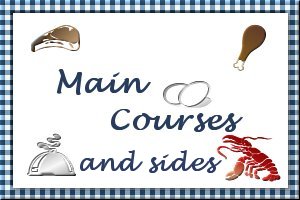 Greek Roast Lamb
Submitted by: Cathie
from Corn Crib Cooking 1987 - Peggy of Bolton, MA
1 leg of lamb
3 cloves garlic, peeled and halved
1 tablespoon salt
1/8 teaspoon pepper
1 tablespoon oregano
1 teaspoon thyme
1 tablespoon spearmint flakes
1 teaspoon sugar
2 lemons, juice only
3 cups boiling water
Wipe meat and place in a shallow baking pan. With a small knife, make 4 incisions and insert sliced cloves of garlic. Rub roast with mixture of salt, pepper, oregano, thyme, spearmint and sugar. Roast meat at 425°F for 30 minutes. Reduce heat to 350°F and continue baking 2 hours longer. Add lemon juice and water the last half hour and baste lamb with the juices. If desired, serve with boiled or peeled, roast potatoes done in the pan or with rice. Skim some of the floating oil, when done, and serve the rest of the liquid as gravy.

Lamb Shish-Kabob
Submitted by: Cathie
from Corn Crib Cooking 1987 - Margie, Bolton MA
1 leg lamb, boned & cubed
3 onions, thinly sliced
1 tablespoon oregano
1 tablespoon salt
1 teaspoon garlic powder
pepper to taste
2 tablespoons olive oil

Lamb should be cubed into desired size pieces. Mix together seasonings. In a deep bowl or saucepan, spread a thin layer of onions. Add a layer of meat and then sprinkle with spices and oil. Add another layer of onions, meat, spices and oil in that order until meat is used up. Cover and marinate at least 24 hours. Alternately place pieces on skewers and barbecue.

Veal Collops in Mushroom Marsala Sauce
Submitted by: Cathie
Found in a tin of old Yankee recipes!
1 1/2 pounds veal stew pieces
2 tablespoons olive oil
2 tablespoon butter
1 large onion, quartered and sliced thin
1/2 pound mushrooms, sliced (optional)

1 can condensed Cream of Mushroom Soup
2/3 cup marsala
1 tablespoon paprika
1/8 teaspoon salt
1/2 teaspoon ground black pepper
1 teaspoon thyme
Brown half the veal in a large heavy pan over high heat, using half of the oil and butter. Stir and turn constantly, cooking only enough to sear the meat. Transfer to a large bowl and repeat with remaining veal and adding butter and oil as needed. Remove meat.
In same pan, saute' sliced onion over medium heat until well softened. Add optional mushrooms. Continue cooking for several minutes until liquid is mostly evaporated.
In a small bowl, blend cream of mushroom soup with marsala, paprika, salt, pepper, and thyme and stir until smooth.
Add veal to cooked onions and pour sauce over all. Bring to a simmer stirring to mix evenly. Cover pan loosely to permit slow evaporation. Turn heat down to very low and let mixture bubble gently for at least an hour, turning collops once or twice. Veal should be tender and the liquid reduced to a finished sauce.
Serve with fluffy white rice and a green vegetable. Serves 4.

To submit your favorite recipes to be included in the Garden of Friendship Recipe Book, please email them to Barbiel
Background graphics made especially for the Recipes Committee of the Garden of Friendship by Valatine